In a world where loyalty to a particular business is a thing of the past, having a strategy to retain the clients you win is one of the best things you can have as part of your business model.
Step one in that strategy? Say thank you for a closed deal resulting in a new client giving you their business. Step two? Give them a gift that welcomes them to your company and thanks them for putting their trust in you.
There are lots of gifts that might work as a thank you to a new customer, but the one that speaks the loudest and talks with the most style is a great bottle of wine. Here are just a few reasons why the gift of wine is the perfect way to say thanks to your new client.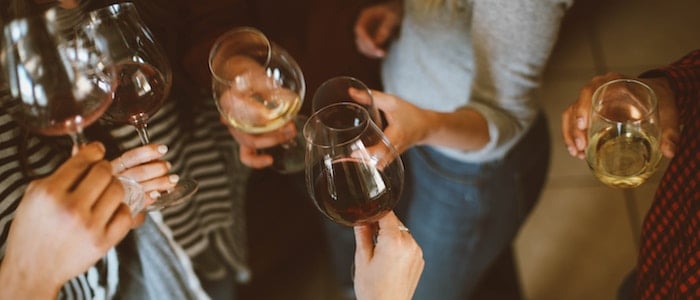 It's a sophisticated choice
Years ago, the popular choice in corporate gifts was a cookie bouquet, an arrangement of fruit, or a basket of muffins. While there's nothing wrong with either of those gifts, there's something about a bottle of wine that's a more elegant and classy choice. It's something that you savor, and something that will last a little longer.
It's a versatile choice
When you give wine as a gift, a bottle can stand on its own as a fantastic choice. However, you can take it up a notch and pair it with boxes of chocolate or send it with wine glasses. You can also choose the type of wine you give based on what you know your client likes, providing extra insurance that the gift will be appreciated.
It's a budget-conscious choice
There are a lot of great wines available out there for a whole range of budgets, and you can get a great wine at both ends of the price spectrum – and anywhere in between the two. If you have a larger budget and want to really impress a client who is knowledgeable about wine, you can choose a more expensive bottle. If you realize the importance of a nice gift but don't have a huge amount of money to spend, you can easily find an excellent bottle of wine that will please your clients' taste buds without destroying your budget.
It's a customizable choice
Lots of companies give out gifts to their clients, but most settle for a generic mouse pad or pen with their own company's logo on it. Does anyone really need another drink koozie? Few companies make the choice to make it about the client who is receiving the present, and even fewer customize it especially for that new client. A bottle of wine is a gift that can easily be personalized so that the message on its label or etched into its bottle is designed specifically with the new client in mind. It's a personal message right to that client. That extra touch goes a long way to establishing a long-term working relationship.
It's an adaptable choice
Is your new client one person, part of a small office, or managing a large group of employees? No matter how you answer that question, wine will still work as the thank you gift. If your client is one person, choose one first-rate bottle of wine – maybe a celebratory sparkling wine - for your thank you gift. If your client is part of a small office, go with the large format bottle, which holds more than the average-sized bottle. If your client is managing a large group, give mini-bottles as a gift so that each person in the office has an individual thank you from you for their business.
So now that you know why wine is the right choice to thank your new clients, how do you start in getting your business set up to deliver this ideal gift?
Begin here. Personal Wine has made it our business to help you with your business. Our product is exceptional, our customer service is unmatched, and our turnaround time is faster than you would expect for a completely personalized product.
Solutions to all of your corporate gift needs
Wine is the right choice, but figuring out where to start in establishing your business with a company that can help you create and ship your product is crucial to making this a successful part of your business venture. Start by checking out some solutions we've created for our customers in the past. You can see the thought that has gone into choosing the right bottle of wine and the level of excellence that went into creating perfect personalization for each gift. That's what we do for each of our clients so that you look the best you can to yours.
Personal relationship with your own account manager
We want you to have a relationship with one account manager so that you are assured that that person knows your business, knows your needs, and knows your budget. We want to make this as easy for you as possible. You won't have to go through the maddening trouble of educating a new person each time you call Personal Wine. Instead, you'll reach someone who knows you and is working for you to get you exactly what you want.
Your account manager will also work with you to create the ideal design for your new client. You can talk through what your vision is and decide if a label or an engraving is the way to go. You can decide what type of design on the label or engraving makes the most sense. You can decide together on the type of wine and the size of the wine bottle. It's a collaborative effort as we work hard to make your vision a reality. Not sure what your wine bottle gift should look like? We can help with that too as our account managers have lots of experience talking through our clients' needs to create the exact product that they want.
Quick turnaround times for shipping
We don't want to see your gift stuck in production. We know how important it is that you have your gift ready to go when you need to give it. We pride ourselves on fast and efficient turnaround times and quick shipping so that your gift gets to you as soon as possible.
Want to ship it to multiple addresses? We can do that too! If your gift is going to clients with several offices in different cities, we can set it up so that your gifts ship at the same time to different locations. Just talk with your account manager about your shipping needs, and we'll get you set up for the right solutions.
When you were little, your mom likely taught you that the first thing you say when someone gives you a gift is thank you. Clients trusting you with their business is one of the best professional gifts you can ever receive. Remember the lesson your mother taught you and make sure you say thank you – but say it with wine.