How It's Made
We love a cool, crisp white wine, especially in the heat of summer. But do you know about white wine's life and it' journey from being a cute lil' grape to getting in your glass?

Here are the white wine basics you ought to know.

As Alanis says: "You... Youuu... You... Outta knooooowww.

---

White wine begins its life in the same way as red wine: grapes are harvested and then brought to the winery where they are sorted and crushed. Unlike red wine, however, the juice of white grapes is almost always pressed away from the skins after a very brief period of maceration, as extended skin contact would impart excessive tannin and bitterness in the finished wine. Who knew?

Another fun fact about white wine is that it ferments at a much cooler temperature than red wine, which helps to preserve its lighter color and aromas (Mmmmm).

Once fermentation is complete, the finished wine is often clarified or filtered prior to bottling. Lighter styles of white wine are often bottled right away to preserve aromatic freshness, while full-bodied whites may see additional aging in oak barrels.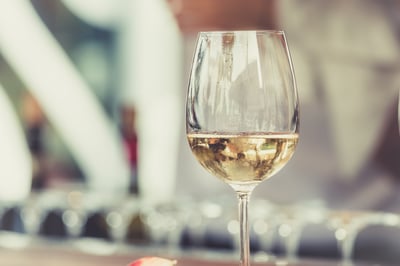 Major Varietals
Chardonnay

Region: Chardonnay originated in the Burgundy region of Central France, but it's now grown all over, from the United States to Australia. It's also a common varietal that's blended into making Champagne and other sparkling wines.


Flavor Profile: Chardonnay can be made in a wide range of styles depending on the climate and the use of oak barrels. Unoaked wines from cooler climates (like Burgundy) exhibit notes of green apple and crushed rock with naturally high acidity. On the other hand, oaked Chardonnay from warmer areas (like California) are richly textured with flavors of ripe tropical fruit and butterscotch. These varietals are often described as more "buttery" in taste and mouth feel.


Food Pairings: Try lighter, unoaked styles with oysters, steamed white fish, and scallops. Try oaked Chardonnays with fried chicken, lobster, and seared foie gras.


Perfect Gift For: most women, as Chardonnay is consumed 2:1 by women. This would be a nice choice, too, for a dinner party... think an Italian feast with cream sauce, or an alfresco backyard dinner with buttered seafood.


Sauvignon Blanc

Region: Sauvignon Blanc originates from the Bordeaux region of Southwest France and is now cultivated throughout the world. Top examples include Sancerre and Pouilly-Fumé in the Loire Valley region of France, Friuli in Northern Italy, and Marlborough in New Zealand. It is also used in the famous dessert wines of Sauternes.


Flavor Profile: The Sauvignon Blanc varietal has signature aromas of fresh herbs, citrus, and tropical fruit. It can be often referred to as "grassy" and herbaceous. The wines range from light to medium in body and are usually crisp, dry, and refreshing.


Food Pairings: Chèvre (goat cheese) is considered a classic pairing, but the wines also work with sushi, asparagus, mushrooms and spicy Asian dishes.


Perfect Gift For: someone who loves to eat spicy Thai or Asian dishes, or prefers a very crisp, dry and refreshing white wine style.


Pinot Gris/Grigio

Region: Known by many names, Pinot Gris (the French word for "gray") is chiefly associated with Alsace, the German-speaking region of Northeast France, and also with Northern Italy, where it is known as Pinot Grigio. It is also commonly grown in Germany, Oregon, and New Zealand.


Flavor Profile: Alsatian Pinot Gris is full in body with pronounced spice notes, while Italian Pinot Grigio is lighter with flavors of stone fruits and bitter almond.


Food Pairings: Ceviche, pasta with cream sauce, assorted fruit, cured meats, and semi-firm cheeses.


Perfect Gift For: if someone is just getting to know their palate, than a

sweeter

Pinot Grigio may be a good place to start.


Culinary Applications
White wine is a versatile tool in the kitchen, allowing a chef to add complexity to lighter dishes like shellfish, seafood, chicken, pork, and vegetables. As white wine cooks, rising temperatures evaporate the alcohol and draw the aromas and flavors of the wine into the dish. For this reason, it is important to select a wine that complements the other ingredients and is worth drinking on its own - most recipes call for less than a bottle, so you'll be left with some wine to enjoy with your meal.



---