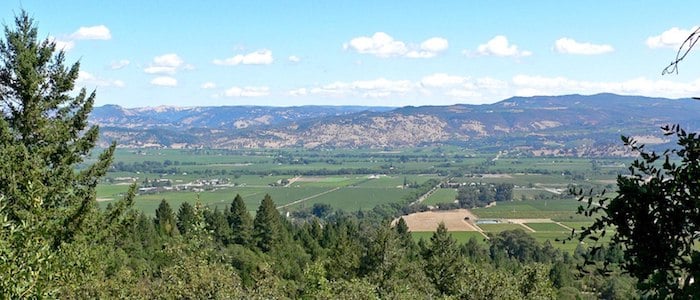 Stan Shebs [GFDL, CC BY-SA 3.0]. from Wikimedia Commons
On the heels of last year's devastating wildfires in Napa Valley, one of the best ways to support recovery efforts is to purchase wines from the region. What's more, a recent string of outstanding vintages in Napa Valley has yielded wines of extraordinary quality that also represent some of the best values in today's marketplace.
For both of these reasons, we strongly recommend wine gifts from Napa Valley for any occasion, and Personal Wine is proud to offer a wide selection of critically acclaimed bottles:

Since its inception in 1976, Duckhorn has been committed to the belief that Merlot can produce world-class wines in California, and in the 2014 vintage, their faith in the grape varietal was richly rewarded. In the glass, their Napa Valley Merlot displays intense aromas of ripe plum, black cherry, and boysenberry with undertones of new leather and sandalwood.
Personalize this bottle
with a custom label or engraving to create a truly impressive wine gift from one of Napa Valley's iconic Merlot producers.

Wildcatter Cabernet Sauvignon Mt. Veeder 2014 - $79
Inspired by the era of petroleum exploration in the United States, Wildcatter Cabernet Sauvignon is one of Personal Wine's signature offerings, sourced from the steep slopes and challenging terrain of the Mt. Veeder appellation of Napa Valley. The 2014 Wildcatter Cabernet is a stunning example of Napa Valley mountain fruit, with a dark, inky color reminiscent of the "black gold" of a bygone era. On the palate, this full-bodied red reveals layers of dark fruit, tobacco, and oak spice framed by sweet, supple tannins.
This wine is approachable now but will reward an additional 10-15 years in in the cellar, so
personalize this bottle
with a custom label or engraving to create a stately wine gift for the connoisseur in your life.

The Prisoner was originally created by Dave Phinney, a maverick winemaker known for provocative label designs and an unabashedly hedonistic style. Since its debut in 2003, The Prisoner has become one of the most recognizable red blends produced in the United States, combining Zinfandel with an iconoclastic mix of Cabernet Sauvignon, Syrah, Petite Sirah, and the obscure Charbono grape. The result is a smooth and luscious red that shows flavors of Bing cherry, dark chocolate, clove, and pomegranate.