Wedding season is upon us. Your girlfriends are getting married. You want to get them just the right gift, and it can be hard to get just the right gift. What should you get your friends that can adequately mark this huge moment in their lives?
The answer is wine. The answer is always wine.
Wine is available in so many varieties that you'll be able to find something to fit the taste of every bride and groom. And there are so many different ways you can pretty up a bottle that even if you give the same type every time, you can easily personalize it for each person on your gift list.
Wine gifts are going to become your go-to gift for all occasions, but let's start with how awesome they are for weddings.
So don't panic. Take a deep breath, pour yourself a glass of your favorite vino, and check out this list of wine gifts for weddings.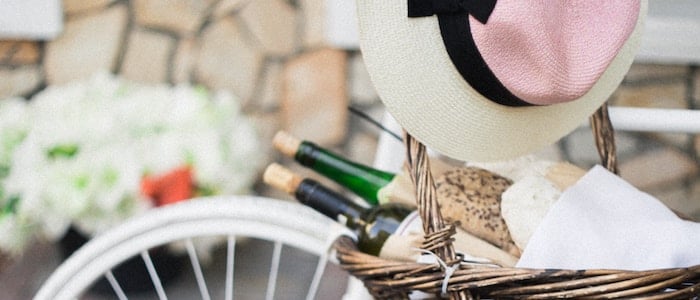 Simple but elegant
Wine glasses have evolved into a personal statement over the years. No longer just another of your glasses to put in the cupboard with your other glasses, they are now a way to show your style – and can easily be showcased in your home on wine racks or displayed on shelves.
The gift of wine glasses is a simple, elegant, timeless present that you can now tailor to match the style of the bride or groom. Are they fans of red? Do they prefer white? Would they rather go with the simplified stemless? No matter the answer, there is a glass for each person.
Take it the extra step and personalize the glasses for the newly married couple. Etch "Mr." into one glass and "Mrs." into the other. That way, they'll be reminded of you and your thoughtfulness every time they take a sip.
Drinks for date nights at home
There's going to come a time in your friends' first year of marriage that they just need to stay home for a bit. Settle in for a romantic dinner at home or a movie night on the couch. But that doesn't mean they can't take it up a notch with wine!
Mini-bottles are perfect for times like these. Giving wine in small battles lets your friends experience great wine in smaller portions. They can pull the bottles out whenever they feel like they want to Netflix and chill instead of hitting the club. They can toast each other with your gift of wine rather than getting dressed up for a glass of champagne at the newest bar in town. Above all, they'll thank you for the creative way you made their life easier.
Toasting the small stuff
Life isn't all about the big milestones. It's often just as much fun to celebrate the small occasions in between the big stuff. Did you unpack your last box so that you are officially moved in together? Drink! Did you decide how to split up all of the household chores evenly? Drink! Did you successfully have each other's parents over for dinner for the first time as newlyweds? Drink! Maybe a lot of that last one.
Regardless of the little occasion, you can celebrate it big with the luxurious taste of champagne. Give your friends a few bottles. Create a personalized label that names the "small stuff" event that they should toast to with that bottle.
They'll think of you. They'll drink to each other. And they'll learn to appreciate the importance of the little moments together. A perfect gift!
Gift box of celebration
Sometimes the hardest part isn't the gift itself, but rather finding the perfect way to give the gift. Problem solved. Try this gorgeous box that allows you to give three bottles of wine in a beautiful wooden box that the happy couple can keep for years to come.
There are so many great wines with which you could fill the gift box. Pick whichever bottles you'd like to go in it, things you know that your friends would love. Then write a message to be engraved into the front of the box. You could wish them well and designate the bottles – one for their honeymoon, one for six months into their marriage, and one for their one-year anniversary. You could simply have engraved that you're helping them start their wine collection. Maybe you want to go simple with a beautiful quotation about love. Whatever you choose, the box will become as much a part of the gift as the wine itself.
When they do finish drinking the bottles of wine, they can keep the box to store other keepsake treasures from their marriage. Your thoughtfulness will last long after other wedding gifts have been forgotten.
Romantic Italian Dinner in a Basket
Anyone can give a gift card to a local restaurant. But what about giving your friends a complete romantic Italian dinner in a basket? It can be done and it would be epic.
It starts with a large basket. Find one that is sturdy and can hold all of the elements of your dinner without being crammed in too tightly.
Now get the dinner portion ready. Go to the grocery store and buy a box of really good pasta and a jar of delicious spaghetti sauce. Don't scrimp and buy the store brand. Buy the one that has roasted veggies and wine and all kinds of other good stuff. Top it off with some high-end cookies that will be a perfect rich finish to the dinner.
Next, get the wine ready. Buy some stemless wine glasses (they'll fit better in the basket) and have them engraved with the words "Date Night" so that your friends feel like they have a special set of glasses to use when having date night at home. Find a bottle of red that will complement the flavors in the sauce you chose. Secure the wine in a wooden box engraved with the words "Scenes from an Italian restaurant." Don't forget a corkscrew and the wine stopper!
One last stop at a store will complete the basket. Head to a home goods store and find a couple of unique plates, some silverware, and a few cloth napkins to include in your gift. What's a dinner if you don't give them the tools to eat it?
Now put it all together. Place all of your items in the basket, using tissue paper as filler. Arrange everything so the wine portion of the gift is highlighted in its uniquely engraved box.
Finally, give that beautiful basket to your friends and know that you have given them a special night to remember by taking all of the guesswork out of dinner, and giving them all of the elements of a special evening in together.
Gift that keeps on giving
When you really need something special to celebrate the wedding of two people who have been like family to you for years, who are your best friends, and you want to celebrate them for the whole first year of their marriage, here's your answer. Create and gift your own wine of the month club. What's better than getting a different bottle of wine in the mail as a gift each month? Answer: nothing.
Think about your friends and what they might love in a bottle of wine. Think about what they might want to try that they haven't before. Keep a list of all of the wines you want to gift and start sending them one each month throughout their first year of marriage.
For more fun, put a personalized label on each bottle. Celebrate their first month-aversary as newlyweds. Memorialize their first holidays as husband and wife. Commemorate their first Valentine's Day as a married couple. Your friends will remember you with gratitude each time they open a new bottle of wine from you.
Wine. Really all good wedding gifts start with a great bottle of wine. Whether you have one wedding to go to this summer or half a dozen, start with a good bottle of wine as part of your gift and you can't go wrong.