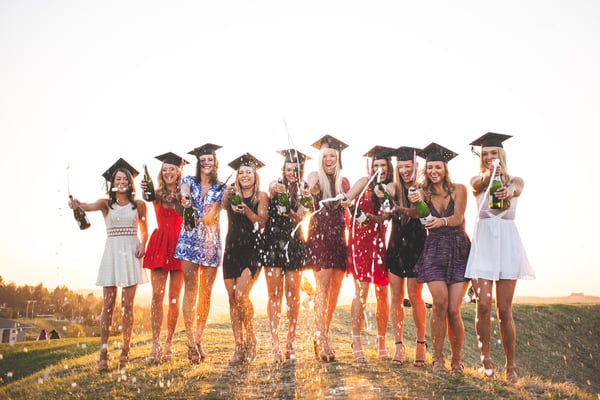 It's graduation season again. Young adults are getting ready to pour out into the world and into the workforce to try to make a name for themselves.
Graduation has a way of bringing out all the feelings. It's great to start on a new phase of life, but it's also difficult to leave the old one behind. It's interesting to meet new people, but it's challenging to not see close friends all the time. You might be happy that you're finally exiting the isolated world of your college (or city, even), but sad that you're not going to have that comfort and security that your campus provided for years.

So what do you do? How do you bridge the gap between the old world and the new one?
We outline seven ways to celebrate graduation that can make it awesome and also help you manage the transition from one part of life to the next.

---
You have brains in your head. You have feet in your shoes.
You can steer yourself any direction you choose.
You're on your own, and you know what you know.
And YOU are the one who'll decide where to go…"
- Dr. Seuss, Oh, the Places You'll Go!

You did it!

You've graduated college and you feel like you're finally able to play in the major leagues of life... We know that feeling so well. But we also know there is sometimes anxiety or nerves that come with it.

Here, we outline some ways to make the jump from college to real world, and how to truly commemorate all you've accomplished.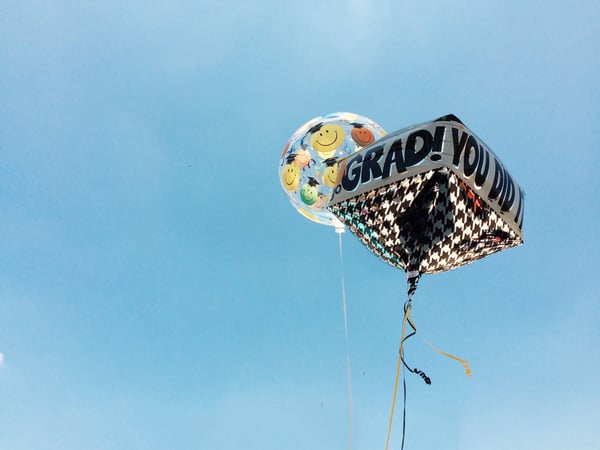 Take a big vacation.


Think about a place that you have always dreamed of going. Why not go there now? Why wait until you've worked for a few years? If you put it off now, you may never go. Book a trip as a grad present to yourself. You can even ask friends and family for contributions to it in lieu of graduation gifts.
Tips for a great vacay:
Make sure that you schedule it for soon after graduation. That way if you get a job, you can ask to delay your start date for a bit instead of having to take time off soon after you've started.



Internet searches are great for ideas, but if you're trying new and different things on this trip, consider using a travel agent to help you book everything so you make sure it's done right.



If you do book it yourself, save receipts for everything that you book so that you have proof of everything you've booked for when you travel. Also, check out flights directly from the airlines' individual websites. They often offer flights slightly cheaper if you book directly with them.



Invite a good friend or two to go with you. Seeing fab things is always more fun to do with a friend. Choose someone you know that you travel well with, and book it together!

Make photo books of your college years.



It's sad to leave a place that you have called home for four years and the people that have shared your life for that time too. Since you probably have a million selfies and pics of your time together, take a little bit of time and make some photo books to keep.



It really couldn't be any easier to do. Sites like

Chatbooks

,

Shutterfly

, or

Pastbook

allow you to link your Instagram account directly with their sites so that you can create books right from the pics already in your account. Super easy to make and they'll last forever. You can even get copies of them for friends who are in the pics with you, and give the books as graduation presents.


Throw one big last party.

Let's get real. While you'll still have a chance to go out on Friday and Saturday nights, things change a little when you graduate and you're just not quite as free, especially as you adjust to having a full-time job. So now's the time for an awesome blowout!

If your home isn't big enough to host your friends, rent a party hall or maybe even an outdoor picnic area. Arrange for food (you can do really easy catering trays from Panera and Chick-fil-A) or make some yourself. Be responsible and encourage designated drivers, plan for people to crash at your house, or get home with the help of Uber or Lyft. Throw the party together with a few friends to make a real blast.


Invest money in attending a conference related to your career.

OK... I know. It's not the sexiest thing you could possibly do with your money. But it might end up having the most payout
Choose a national conference that relates to the career you want (or the job that you've already secured) and book yourself to go. You can learn some really important things that can help you get your career off to a sweet start. In this day and age, grads need all of the help they can get to set themselves apart from other people competing for the same jobs. This investment could pay off big time by giving you that edge. If you already have a job lined up, it would impress your new boss that you're passionate enough about your new career to book a conference on your own.
Additionally, there are some great deals out there for most conferences at a student rate, so book before you graduate. Since most conferences take place in desirable locales, tack on a few days at the end of the conference for a little R&R. It's the best of both worlds – you're making yourself more marketable to your new or future employer and you get a little vacation time for yourself.


Do a little reno project to give your personal space a facelift.

If you're moving into your own apartment for the first time, check with the landlord to make sure it's okay to paint. Then spend some time, money, and effort to make your space your own. Decorate it with great artwork, beautiful linens, and pretty accessories.
This one might be especially important if you choose to live back home for a little bit after graduation and before striking out on your own. You'll want to get rid of the signs of adolescence that probably still linger all over your childhood bedroom. Browse Pinterest or other sites for decorating ideas, and then spend a weekend making your dreams into reality.


Buy yourself something really special.

Since college graduation is a once-in-a-lifetime, and you've likely worked really hard to get to this point. It's a great time to treat yo' self!

Maybe you need a brand new suit or pair of heels so that you look great for all your upcoming job interviews. Or maybe you've been geeking out over the Apple watch and just haven't splurged on it yet. Maybe a diamond bracelet is your thing or floor-seat concert tickets or even a new car. It's a nice time to buy something for yourself that commemorates this new phase of your life.


Commemorate the occasions with keepsakes.

In addition to photo books, you want to make sure that you remember to have some treasure and keepsake items to commemorate this monumental occasion in your life. One really great and unique idea is to celebrate with a personalized wine gift.
Personal Wine allows you to pick from a big selection of delicious wines, and then either etch something directly onto the bottle or create a custom label. They have traditional-sized bottles, large format bottles, and mini bottles, so you can keep the bottle for yourself, create a large bottle for your party, or put a specialized label on mini bottles that you pass out as favors or hand out the night of your party. Whether they drink the wine inside the bottle at the party itself or later when they're home, they'll remember your great time together.




---

There's no doubt that this is a big time in your life. Graduation is a huge deal. Don't blow it off as just one more thing you have to do before you start working.

Savor it. Enjoy it. Celebrate it.

And then you'll really be ready for the rest of your life to start.
Go get 'em!