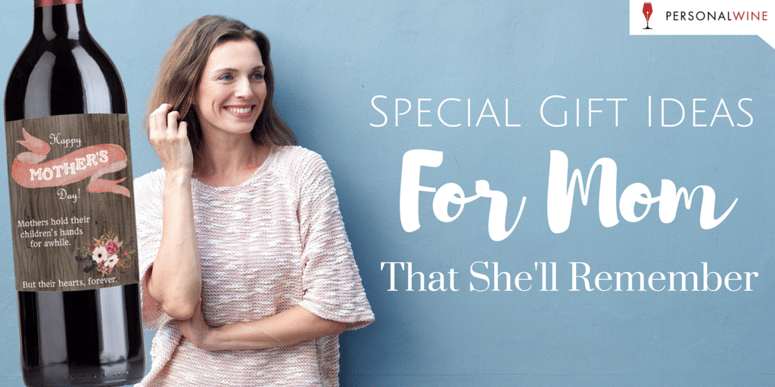 Every year as Mother's Day approaches, people all over the world are scrambling last-minute, trying to decide what on earth to get mom. What kind of gift would be worth giving to the woman who brought you into the world? What type of gesture would suffice to say "thank you" for all she's done for you?
The whole point of Mother's Day, held on the second Sunday in May, is to express appreciation to your mom (usually by means of a gift). It's also appropriate to get gifts for your mother-in-law, grandma, a close friend who just became a mom, or a mother figure in your life. In all honesty, though, flower bouquets are overrated and overdone Mother's Day gifts.
Your mom deserves something more meaningful, something with significance. This is why special personalized gifts for moms are the way to go. One classy and personal option is a customized Mother's Day wine gift. There are so many things you can do with a wine bottle, wine box, or wine glass to make it unique.
Here are some special Mother's Day wine gift ideas.
Wine Gifts For Moms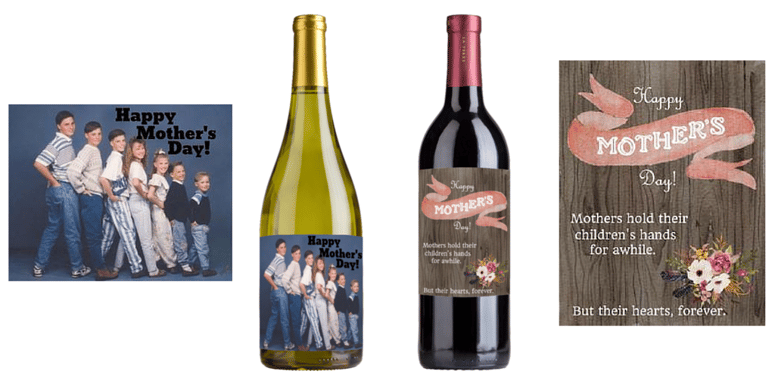 Personalized Wine Labels
There are a few creative ways you can personalize a wine label for mom. One option is to put a memorable photo on the label. It can be a photo of you and your mom when you were a baby to make her smile, or an awkward family photo to make her laugh. Putting a favorite photo of hers on a wine bottle will let her reminisce on the good old days.
Another way to personalize a wine label for Mother's Day is to include a funny, mom quote. Here are some examples- "The most expensive part of having kids is all the wine you have to drink," or "A mother's sacrifice isn't giving birth. It's 9 months without wine." Quotes like these are perfect for the mom who loves wine and has a good sense of humor.
You can also write out a special message to your mom to put on the wine label. Much more elegant than a typical greeting card, a heartfelt message on a bottle of wine is certainly one she'll never forget. If you're at a loss for words, try using one of these poems for mothers. There are hundreds of ready made templates to choose from that you can insert your message into.
Engraved Wine Bottles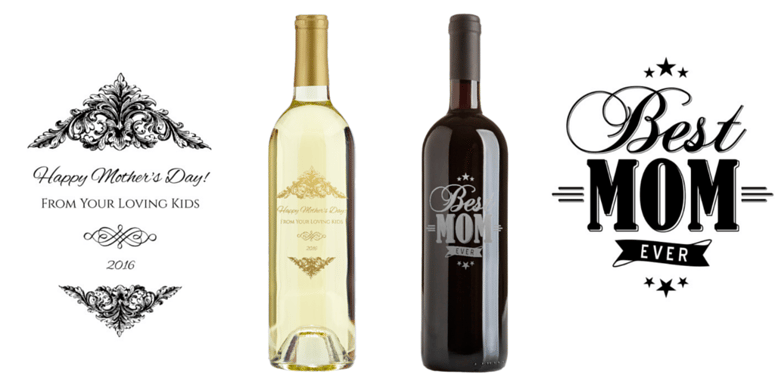 In addition to altering a wine label, another special gift for mom involves making the bottle itself your own. Custom engraved wine bottles are more unique and fancy than a label, but they're also more expensive. Her name, initials, or something more catchy like, "Mom's Merlot," are just a few of the endless opportunities for bottle engraving.
You can also choose to keep it simple and stick with the traditional "Happy Mother's Day" or "Best Mom Ever." Or, you can take it up a notch and get a black-and-white photo engraved on a wine bottle. This is sure to impress and be saved in her hutch forever.
Engraved Wine Boxes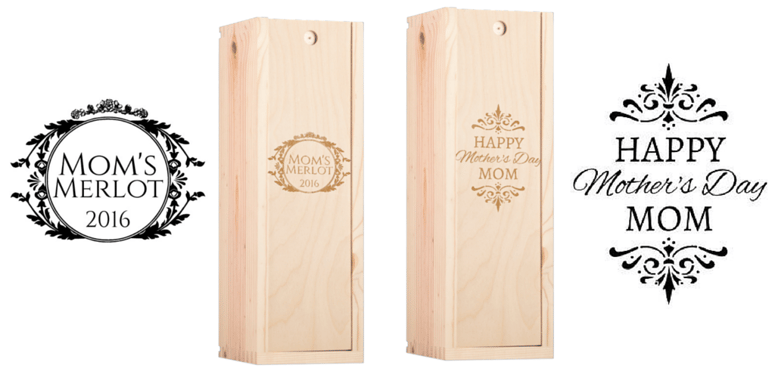 If you already have her favorite bottle of wine purchased and are just looking for something extravagant to put it in, wooden wine boxes add a classy touch. There is no better way to give a wine bottle as a gift than in a wooden wine box. This wooden box is handcrafted from pine, making it sturdy and naturally beautiful.
If your mom likes to recycle, this special Mother's Day wine gift idea can be reused to store trinkets in, like photos. The wine inside will be consumed, but the box will last forever. It's a gift that keeps on giving!
Personalized Wine Glasses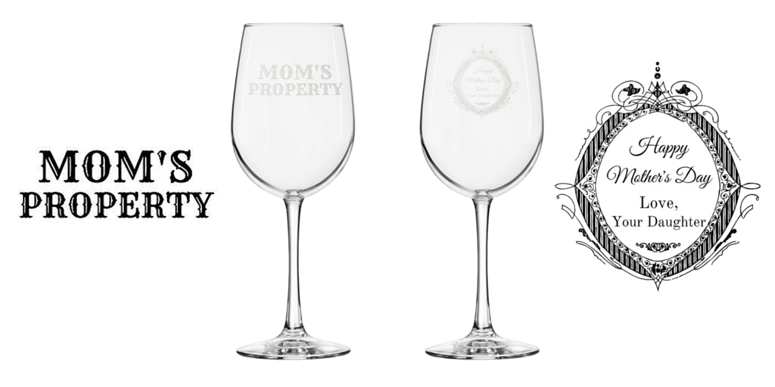 Wine glasses can also be customized to make special Mother's Day gifts. Custom-etched wine glasses are the perfect addition to any of the above wine gifts. With a personalized wine glass, she'll be drinking her wine in style. Engraved wine glasses are a good option because they can be used again and again.
The most special gifts for moms come with a personal touch and are by far the best option for Mother's Day. As you can see, a custom gift for mom is much more special and memorable than a stereotypical box of chocolates. And wine gifts especially are a tasteful and fun way to express your gratitude.