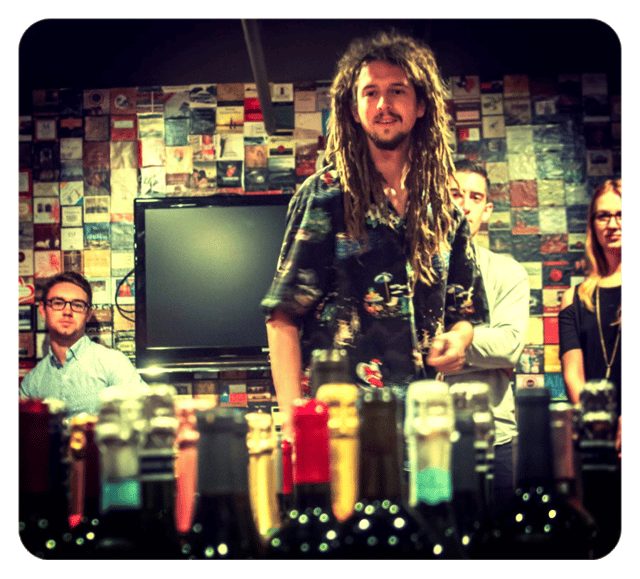 It can often be difficult to give away bottles of wine in groups. The intimacy of gift-giving is at times lost through this type of repetitive & chaotic exchange.
We created this exciting ring toss game that will challenge your recipients to win their wine prize. This amusing sport can be played at weddings, corporate events and any holiday party.
Step One: Gather the Wine
For this game, we collected approximately 75 different bottles from our collection. We assembled the bottles in an assorted pile on a low table, placing more desired selections near the center of the stack. We made sure that all bottles were touching and that there was little space between the bottles.
Our employees were excited and anxious as they gathered around the table full of variety. Dozens of red, white & Champagne bottles adorned the table with well known labels such as Dom Perignon, Veuve and Silver Oak up for grabs.

Step Two: The Rules
The goal of the game was to toss a small plastic ring landing it around the neck of any bottle. Each thrower stood approximately 6 feet from the center of the pile and was allowed to throw until they achieved a win.
The game started with the person whose birthday was the closest and we then went in birthday order from there until everyone won at minimum one bottle. Some employees earned multiple bottles as an incentive for the previous month's performance. Need more incentive ideas?
As bottles were won, we moved the bottles closer and closed the holes making it more challenging. Since only one person played at a time, we needed less than 60 rings for everyone and quickly gathered them after every player.
Link for rings on Amazon: 2.5" Diameter Plastic Toss Rings
Step Three: Fun for All
Everyone who played was thoroughly engaged throughout the game. This team-building activity helped increase motivation, morale and promoted competitiveness. Competition has been shown to increase productivity which we channeled in this friendly yet ambitious contest.
The game can be adapted as an enjoyable activity for your outdoor wedding, holiday celebration, fraternity/sorority event, tailgate, corporate gathering, or periodic incentive contest. Festivals use this game as a fund raising tool when competitors pay money for opportunities to win more delicious wine.
Bring some life back to your gift exchange with this wine bottle ring toss tournament.