Getting engaged is the first step on the journey to getting married. The second step is the engagement party.
Sometimes the families and friends of the engaged couple plan the party for them, but often it's the couple themselves who plan their celebration. It's a great chance to take a few hours to enjoy this incredible moment in your lives before all of the stress of the wedding planning starts.
If you're newly engaged and planning the celebration yourself, we have some great ideas to help make this party the special event it deserves to be for the two of you.
Creatively Ask Your Friends to Be in Your Wedding Party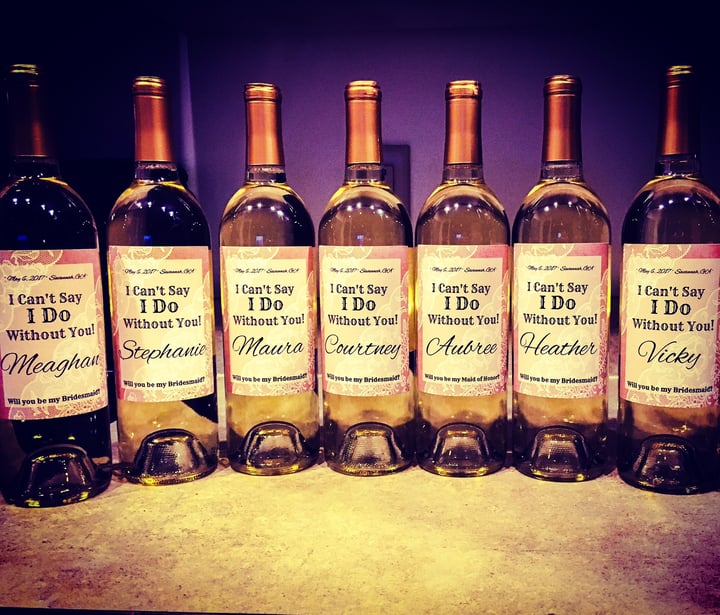 Asking someone to be in your wedding party means asking them to share in one of the most important moments in your life. Make it special, and ask these people in a unique way to stand up for you.
Bride-to-Be: Create a beautiful bridal party box for each of your potential bridesmaids. Choose one of our wooden boxes for each girl and engrave the front of each with the words, "I found my guy, but I still need my girls." Inside the box, put a beautiful engraved champagne flutes with the girl's name on it. Then choose a set of our mini bottles of champagne, and order personalized labels that say, "Now it's my turn to pop the question. Will you be my bridesmaid?" Give each girl her own box when it's time to ask and you are creating the first of many special memories with your wedding party.
Grooms-to-Be: Do something similar to what your fiancé does and create a party box for each of your potential groomsmen. Choose one of our wooden boxes for each of your guys and engrave the front of each box with the words, "I found my girl, but I still need my guys." Order one of our stemless champagne glasses for each of the guys you want to have as your groomsmen and engrave it with his name on it. Create your own labels to go on some of the same set of mini bottles of champagne that your fiancé is using in her gifts. Personalize it to say something like, "I only get to make one wedding decision. [Name], will you be a groomsman?" Give each guy his own box when it's time to ask them.
Get Advice on Planning a Wedding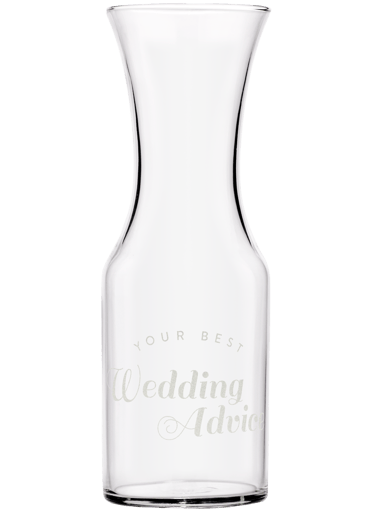 People love to give advice. So take advantage of it and see what creative things they recommend for your wedding planning. Order a glass decanter and engrave it with "Your best wedding planning advice" or something less formal like "We need all the help we can get!" Leave slips of paper and pens near it so that your guests can give you tips on how to make the most of your engagement and creative ideas for your wedding.
Instead of a Guest Book, Have a Guest Bottle

You want to remember the special people who came to your party to celebrate how the wedding journey began. Anyone can have a guest book. You need a guest bottle. Order a large format bottle of wine or champagne and create a label that has a picture of you and your fiancé on it. Have your friends and family sign the bottle with a gold or silver permanent marker, and then save it to drink for your wedding night or your rehearsal dinner.
Thank Your Guests for Supporting You

These are the people you chose to invite to be with you from the start of your engagement so they must be special people. Thank them in a really nice way with a mini bottle of wine to take home. Create a label that says something like, "Sip, sip, hooray! Thanks for celebrating our engagement with us."
This is the beginning of a fantastic journey for the two of you as prepare to join your lives together. Creating a special party to celebrate your engagement doesn't have to be hard. Memorable moments are just a few clicks away.