Imagine getting a wedding invitation like this...
Okay, so maybe that invitation isn't showing up in your mailbox any time soon, but a personalized bottle of wine is so easily overlooked as a great newlywed gift idea that Personal Wine felt that relationship needed some extra special attention.
The newlyweds in your life will appreciate having a fantastic bottle of wine that continues to be a present long after they savor the last drop. Our etchings and personalized labels make this a completely unique gift for newlyweds and can be tailored for each couple. Here are three ways to use personalized wine bottles to make wonderful wedding gifts for your friends and family.

Make Their Invitation the Label on a Wine Bottle
Pick any kind of wine that you think the couple would like from our large selection. Choosing a large format bottle will give you more space to work with – and give the happy couple more wine to drink! Then scan a copy of the wedding invitation and upload it to our site to have it turned into a beautiful label for the wine. Or you can contact our customer service reps and ask about having it etched directly onto the bottle. Either way, this newlywed gift idea is sure to be enjoyed for its contents and then displayed as a keepsake for years to come.

Help Them Drink to the Firsts During the First Year of Marriage
Pick any four of our delicious bottles of wine from our large selection. Then create a label for each celebrating a different "first" that they'll experience during their first year of marriage. For instance, you could create four that say "First Holiday," "First Big Purchase," "First Fight," and then "First Anniversary." Don't be limited to these four "firsts." Maybe you want to help them celebrate more or different occasions. Create a label to celebrate each one and you'll be giving the newlywed couple a gift to enjoy throughout their year of marriage. It's truly the gift that keeps on giving.
Champagne to Celebrate
Choose a bottle of delicious sparkling wine that you know the couple will enjoy. Use one of the good photographs of them as a couple that you have or arrange to get a copy of an engagement photo from the couple. Then have that photo made into a label for the front of the champagne bottle. Invite the couple to toast each other after the wedding chaos finally settles down and they're getting settled into married life. You can include a quote on the label about loving each other or just keep it simple with the picture. Either way, the newlyweds will look forward to toasting each other and have the bottle to keep.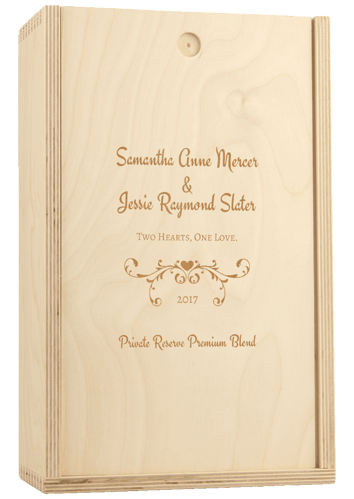 Taking Your Gift to the Next Level
Personal Wine has great personalized wine bottles, but also has several other engravable items that would make wonderful and unique gifts for newlyweds. If you really want to take your wedding gift to the next level, choose one of our larger wooden wine boxes. Engrave the newlyweds last name on the front and "ext. [the year they were married]" underneath their name. Then choose two of our wineglasses, either with stem or without. On each glass etch either "Mr. [last name]" or "Mrs. [last name]" and then put the date of their wedding underneath each "Mr." or "Mrs." etching. This gift is the whole package in one beautiful box.
Use any of these ideas or be creative and dream up your own way to celebrate your friends or family members so uniquely on the occasion of their wedding. The gift of personalized wine for the upcoming weddings you're attending? Now that's a match made in gift heaven.