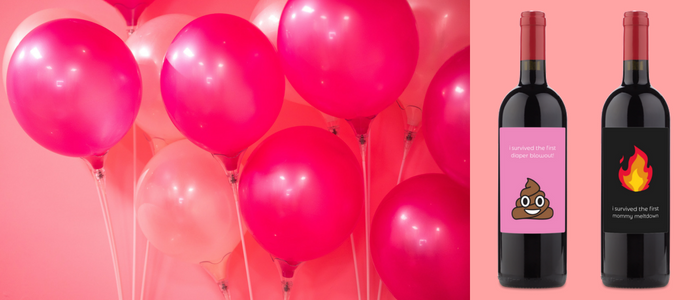 It's entirely possible that when you think of a baby shower gift, your natural next thought is not "wine." But it should be.
Sure, the expectant mother can't start drinking during the shower, but that doesn't mean that she isn't already looking forward to that first glass of wine she'll enjoy once her baby arrives.
Help her get through the last few weeks of pregnancy with a baby shower wine gift that is a reminder of her goal: delivering the baby and having a great glass of wine.
Wine "Cake"
Diaper "cakes" are all the rage at baby showers. They're rolled-up diapers stacked on top of each other in tiers, like a cupcake tower. Give the expectant mom a different kind of cake tower.
Instead of rolled-up diapers to put on the tiers, use mini wine bottles. Take it a step further and create a fun label that says, "Welcome Baby!" or "It's a Girl!" or "It's a Boy!" if you know what the baby is.

Bottles of Wine that Honor Motherhood
Most first-time expectant moms really have no idea what's in store for them once their precious bundle of joy arrives. They know they're in for a world of "firsts" for the baby – first dirty diaper, first tooth, first solid foods, first words, etc. But what they don't realize is that they're in for a world of "firsts" for themselves too, and they'll want to celebrate those "firsts" with wine.
Give her the gift that lets her do that. Choose several bottles of her favorite wine and then personalize the bottle labels to celebrate the "firsts" of being a mom, and the fact that she survived. Here's an idea of some things to put on the baby shower wine gifts.
Start each one with the words "I Survived the".
First Diaper Blowout

First Public Tantrum

First Overnight without Baby

First Time Baby Sleeps through the Night

First Mommy & Daddy Date Night after Baby Comes

First Mommy Meltdown


Wine Glasses
If you want to be really thoughtful, how about getting the expectant mom a set of engraved wine glasses? You can engrave it with "It's a Girl!" or "It's a Boy!" if you know the gender.
Or you can choose to be a little more humorous and engrave one for the expectant mom that says, "Mommy's Juice" and another for the dad-to-be that says, "Daddy's Juice."
All that's left is teaching the new baby to read so she can respect the glasses.




Personalize your own wine glass
---
Anyone can give diapers and onesies as a shower gift...
Give the expectant mom what she really wants – any of these great gifts that all relate to the wine that she can't wait to enjoy once her baby is born.