When you're planning the great parties and celebrations in your life, there are so many details to get straight. From the guest list to the location and the food and the drinks and the entertainment – the list can literally seem endless.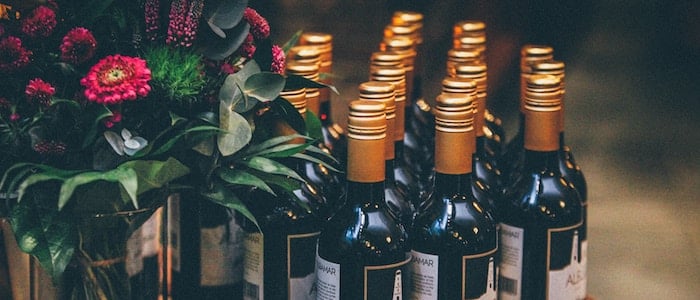 If you're not sure where to start in planning your epic bash, sometimes the best thing to do is cross one thing off of your list really quickly. It gives you a sense of accomplishment and boost your energy for the remaining tasks. Get your pen ready because we have the answer to the question about what to get as favors for your guests: the mini wine bottle.
It's versatile so it will be perfect for lots of situations, and since it can be personalized, you can tailor it to say what you want to communicate to your guests.

It's a great gift on its own, but it can also easily be combined with other items to spice up a gift bag.

It's a generous gift as each bottle is the equivalent of a large glass of wine. The average pour is 5 ounces; our mini bottles are 6.3 ounces. They come in a variety of types so you can pick the color and taste that is best for your situation.

It's economical. Many kinds are available for less than $5/bottle, which is less than you pay for most greeting cards these days.
The mini wine bottle is a little gift that makes a huge impact, and works as a creative and unique favor no matter what kind of party you're throwing.
Wedding
There are a lot of bad wedding favors out there. You know that because you've probably gotten a few of them over the years. So don't be a "worst favor" story that your friends tell. Be the "best favor" story that they tell.
Personalized mini wine bottles are a great way to say thank you to the friends and family who come to support you as you get married. Since the label can be personalized, you can use this opportunity to write a note of thanks to your guests or, if you prefer, use a picture of you and your new husband or a simple quote about love. Whatever you choose, your guests will be grateful for a little piece of fun and sentiment to take with them as a reminder of your wedding.
Wedding out-of-town guest gift bag
It's customary – and just plain nice – to leave a gift bag their hotel for your guests who have come in from out of town to be at your wedding. Along with the usual maps and candy, how much of a rock star would you be if you also tucked a little bottle of wine in the bag?
The mini bar is too expensive and after a long day of travel, your guests may not even feel like venturing to the hotel bar (if there is one), let alone finding a good local one. This little bottle will be just the right touch to help your guests settle in and get relaxed for the wedding. Design a label that says "The party starts now" or thanks them for coming. Don't forget to include a wine glass in the bag so they don't have to drink out of the hotel cups. It's a small added touch that will make a big difference.
Bridal shower
Even though your bridesmaids are supposed to plan your bridal shower, that's no reason you can't put the request in for the favors. Turn your bridesmaids on to these beautiful little bottles and they'll thank you for taking one thing off of their to-do lists.
Maybe they'll put a picture on the label of you as a little girl with your pillowcase draped on the back of your head, using it a veil in your pretend wedding. Maybe they'll put a great pic of you and your fiancé on the bottle Maybe they'll put a nice quotation about looking to the future with love. No matter what they choose, your guests will be grateful for the gift of wine they can take home after your bridal shower is over.
New Year's Eve
We all know the power of champagne on New Year's. It's absolutely essential to a good NYE party. But what will separate your epic bash from the less fun parties of others is your gift of champagne to send home with your guests.
No one wants the New Year's Eve party to end. When it does, we just have to get back into our post-holiday-vacation regular work and life. Re-entry can be hard. Champagne can make it easier. Design a label that reminds them to ease themselves slowly into the new year. Let our personal account executives help you craft just the right label that will impress your guests and lift their spirits.
Birthday bash
You don't have to wait for a holiday to break out these bottles. Use them at your next birthday party too as a thank you to your guests for celebrating with you. Create a special message of your own for the label or use one of our stunning standard labels for the front of your birthday favor bottles.
Here's a bonus tip: mini wine bottles also make great décor. Place half a dozen or so in a basket in the middle of a table or a on a stand near the exit. Arrange the mini wine bottles in the basket with some straw or tissue paper – whatever complements the theme of your party. Now you have décor and favors checked off with one awesome bottle.
Valentine's party
There are two kinds of valentine's parties. There's the one you throw when you're part of a couple and you love the holiday that celebrates love and coupling, and you just want love to ooze everywhere over everyone. Then there's the kind you throw when you're single and hate being reminded for an entire day by the entire world that you're single.
Luckily, the mini wine bottle is a perfect favor for whichever party is the one you're throwing.
If it's the sweet and mushy party, make sure color plays a factor in your choice. We have several bottles with beautiful pink or gold foil over the caps. You can then choose a label that uses the soft shades of pink for your message of thanks to your couple friends for coming to your lovely party.
If your party is the other kind, we've got you covered too. Here's where the personalization can get really fun. Create a label that matches the mood. How about "Cupid Rhymes with Stupid"? Or the simple "Love Stinks"? Or even something empowering like "Single is a chance to live your life on your terms without apology." Whatever you choose, your guests will love being able to take home a little bottle of love from you on a day that can sometimes be really hard.
Summer BBQ bash
There are few other events that have the feeling of freedom like a great summer party. They're outdoors, there's fresh air, and there's usually awesome music floating through the party on the summer breeze. Usually you can smell a grill going too. Let's face it – nothing tastes better than a juicy, hot-off-the-grill hamburger with a side of fresh salad and corn on the cob.
These are the great kinds of parties that last late into the evening, when the fireflies are out and the kids are still playing and everyone hates to head home. Give your guests a little reminder of your summer night soiree with a take home mini bottle of wine. Choose a great label from our standard choices that will fit the mood and thank them for joining you. Or use your own words on the bottle, sending a message to great friends who just shared a great party. It's a simple touch, but since most people won't think of doing favors for a summer party, it will make yours stand out.
Whatever kind of party you're throwing, we've got the right favor for you. Spend a few minutes on our website and you'll be grateful to have one thing quickly and easily crossed off your to-do list so you get on with the rest of your party-planning fun.