---
Mr. Fitzgerald was obviously a huge fan of the bubbly, and who could blame him? Champagne has a way of delicately dancing across our taste buds leaving us craving more of it's sweet, yet slightly tart flavor.
In the true spirit of romance, love, and all things bubbly we've put together an entertaining with Champagne dessert and cocktail guide that will surely make your heart flutter.
Chocolate Covered Strawberry Cake with Champagne Crème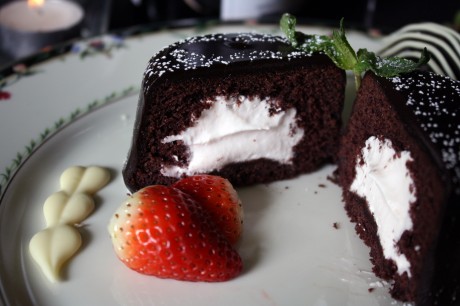 Decadent, devilish, and oh-so-sexy! This dessert was created Brulee Catering's Executive Pastry Chef, James Rodebough, and includes not only champagne- but merlot. It starts with an oversized devil food cupcake, is filled with a strawberry champagne crème, and is then coated with a Merlot-infused dark chocolate ganache. Serve with chocolate curls and freshly dipped chocolate covered strawberries.
For the full recipe along with instructions from the Chef, click here. WARNING: May Cause Romance!
---
Appleton Estate Jamaica Rum and Champagne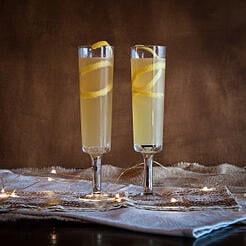 He loves rum, you love the bubbly- this cocktail is a match made in heaven.
1 oz. Appleton Estate Reserve Jamaica Rum
1/2 oz. honey syrup (2:1 honey to water)
1/2 oz. fresh squeezed lemon juice
3 1/2 oz. Champagne
Preparation: Combine all ingredients, except for champagne. Add ice, then shake and strain into a flute. Top with Champagne and garnish.
---
Champagne Brownie Cake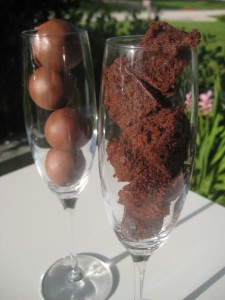 While we can't quite decide if it's a cake or brownie, we do know this- it's ridiculously moist and delicious! These perfect little bites are a great way to use up leftover champagne and taste even better the next day.
Ingredients you'll need:
1/2 cup flour
1/2 cup unsweetened cocoa powder
1 cup sugar
1/2 tsp baking powder
1/4 tsp salt
2 eggs
1/2 tsp vanilla extract
1 stick (8 TB) unsalted butter, melted
1/2 cup of champagne
For complete instructions and tips from the chef, click here.
---
Cranberry Sgroppino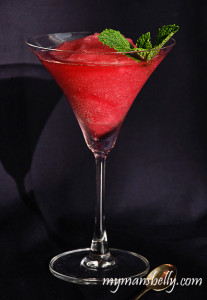 Sgroppino is a classic Italian specialty dessert cocktail made with sorbet, vodka, limoncello and champagne. The recipe creator, Pamela Braun of mymansbelly.com, wanted to spice things up a bit and created her very own cranberry sorbet to give the dessert its traditional Valentine's day red coloring.
Cranberry Sorbet
1 Cup Water
3/4 Cup Sugar
1 1/2 Cups Cranberry Juice Cocktail
2 Tablespoons Vodka
Lime Juice to Taste
Sgroppino
1 Pint Cranberry Sorbet
4 Tablespoons Vodka
Champagne
Cranberry Sorbet
1. Pour the water and sugar into a small saucepan.
2. Heat over medium-high heat and cook until all of the sugar is
dissolved. Cook for an additional 2 minutes. Stir occasionally.
3. Remove from heat and let cool to room temperature.
4. Stir in the cranberry juice cocktail and vodka.
5. Put this in the refrigerator to chill.
6. Once chilled, pour into you ice cream maker and process according to
direction for your machine.
7. When done, put into a covered container and freeze for at least 4
hours before making Sgroppino.
Sgorppino
1. Spoon all of the sorbet into a large bowl.
2. Pour the vodka into that bowl.
3. Pour in 1/2 cup champagne.
4. Gently whisk all of these together. If you think the Sgroppino is
too thick, add 2 more tablespoons of Prosecco to the mixture.
5. When whisking, start by gently mashing the whisk up and down. Once
some of it has melted, you can start to slowly stir the mixture.
6. Spoon or pour the Sgroppino into glasses.
7. Garnish with a sprig of mint.