The movie "Bridesmaids" really hit home with a lot of people. Not just because it was hysterical - which, let's face it, it totally was - but because some of the things that were depicted hit so close to home for so many people.One of the things that resonated most was the scene at the bridal shower, when one of the bridesmaids gave the bride a trip to Paris and a meeting with a top wedding dress designer. It left every other gift in the dust. Not everyone can afford to give a new bride a trip to Paris. Fortunately you don't even have to aim that high in order to give the bride a memorable gift that becomes a treasured keepsake for her and her new husband.
Personal Wine can help you create that statement gift to give your friend. Here are just four gift ideas for brides that you can create:
"Mr." & "Mrs." Champagne Celebration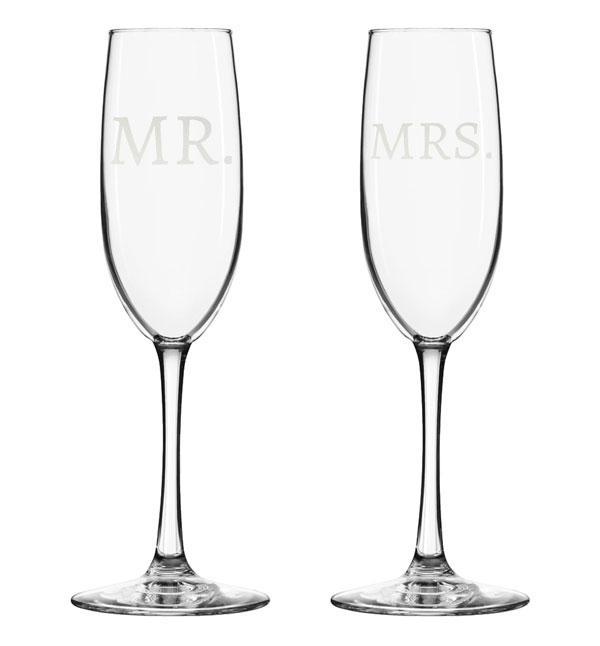 All new brides want to celebrate their new status of "Mrs." Somebody. Give her that moment. Choose from two champagne flutes, a traditional stemmed one or a more modern stemless one. Purchase two of whichever one you like, and etch one with "Mr." and the other with "Mrs." Each time she and her husband toast each other, they'll get to celebrate their union all over again.
But what about the champagne to put in them? Give your friend some beautiful bubbly to fill the etched glasses. Select any sparkling wine and then choose any of our predesigned wedding labels to put on it. Or you can get really creative and design your own label celebrating the three most important dates in your friend's relationship with her new husband. Create a label that says "First Day" with the date of their first date underneath it, "Yes Day" with the date they got engaged underneath that, and "Best Day" with their wedding date underneath that. It may not take your friend and her husband long to drink the champagne, but they'll be able to keep the bottle with the beautiful remembrance of their special dates forever.
"Mr." & "Mrs." Wine Celebration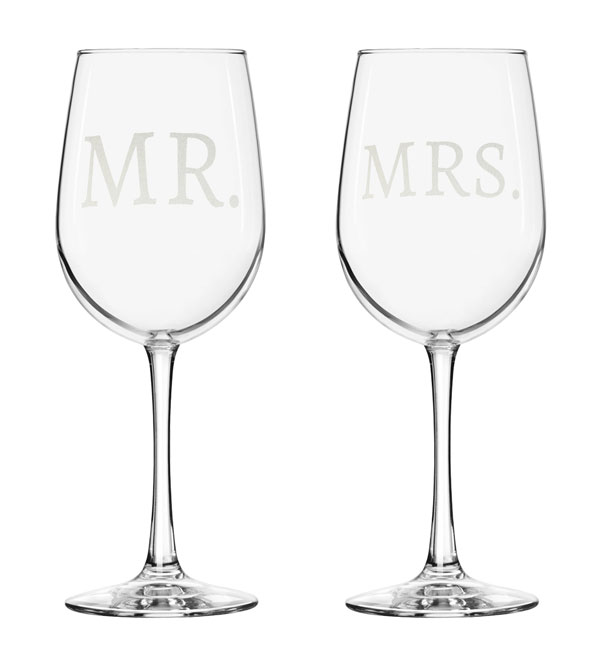 If your friend is less of a champagne girl and more of a straight up wine girl, you can do the same idea as the champagne, but use wineglasses and wine. Choose from our stemmed or stemless wineglasses and etch "Mr." on one and "Mrs." on the other. Then choose a bottle of delicious wine to put in those glasses. Create the same label as you would with the champagne, and now you have a great gift for your wine-loving friend to celebrate her nuptials and remember her wedding.
Bottles for Firsts

The bride and her new husband are going to go through a lot in their first year of marriage. Let them celebrate some special "firsts" with bottles of wine. Pick four of our bottles of wine (different ones or all the same), and then create a unique label for each to celebrate firsts. Create labels that say, "First Big Purchase," "First Fight," "First Holiday," and "First Anniversary," or choose whatever "First" you think they might want to celebrate and put that on the label. The bride and her new husband will be celebrating your thoughtfulness all year long.
One Big Beautiful Bottle
If you just want one large, lovely bottle with one beautiful, personalized label on the front, Personal Wine has got it for you. We have six large bottles to choose from, and then you can create the perfect label using one of our predesigned choices or one of your own design. You could, for example, put a picture of the couple together and put a saying on top of it that says, "Love, Laughter, and Happily Ever After" with "est." and the year they got married underneath it. The bride and her new husband will be celebrating your thoughtful champagne gift idea all year long.
Paris is fantastic, no doubt. But when that's out of your budget, don't get mad – get wine. Give the bride a unique and creative and special gift of personalized wine bottles and great accessories.