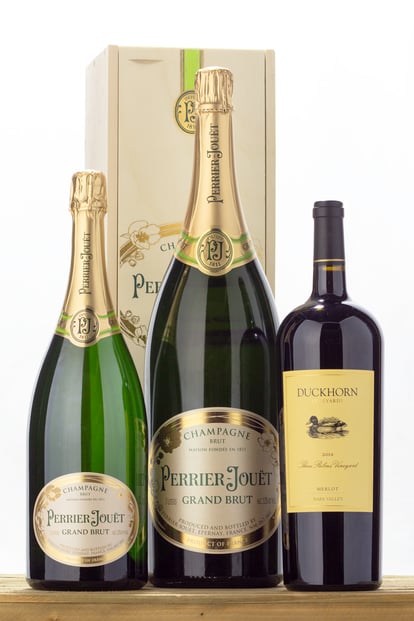 Ever wondered how those very large bottles came to be? We break it down for you, so you know once and for all how and when to use large format wine bottles.
What Exactly is Large Format Wine?
Large format wine bottles begin at 1.5L in volume, which is equivalent to two standard bottles of wine. This large format wine bottle, called a Magnum, is popular to gift for a special occasion or to have at parties since it's size is eye-catching and impressive.

Even more impressive is the 3L size, aptly called the Double Magnum, or Jeroboam, and it is equivalent to 4 standard wine bottles.
Due to the thicker glass and the larger volume, the wine inside a large format bottle is less likely to experience fluctuations in temperature, and also less exposure to oxygen, so it actually ages much better.

If you want to get more Bill Nye the Science Guy, let us explain the science behind it: in each bottle of wine, there are varying amounts of air (oxygen and sulfur dioxide, to be exact). The air-to-surface ratio between the juice and the bottom of the cork is called ullage. The amount of ullage can determine the rate of oxidization that occurs. In larger format bottles, the ullage is a smaller ratio (read: less air exposure) so the wine can mature more slowly and build complexity better than in a standard (or smaller) bottle size.
What's In a Name
Additional sizes of large format wines are actually named after Biblical references, as noted in the chart below. While sizes larger than a Double Magnum wine are not as common, they are certainly impressive - and pricey - but for good reason, of course. If you ever are so lucky to get your hands one of those babies, be sure to vet the seller and ask how it was stored and aged over time. Oh, and don't forget to 'gram that thing. #winegoals


Here is a list of the most frequently used wine bottle sizes, sizes and their equivalent volume in relation to standard 750ml wine bottles:
-Quarter Bottle: 187ml (aka, Mini Bottle, Split, or Piccolo) - 1 glass of wine
-Half Bottle: 375ml (aka Demi) - 2 glasses of wine
-Standard: 750ml, or 25.4 oz – The most popular sized wine bottle; 4 glasses of wine
-Magnum: 1.5 Liters - 2 bottles; 8 glasses of wine
-Double Magnum: 3 Liters (aka Jeroboam) - 4 bottles; 16 glasses of wine
-Rehoboam: 4.5 Liters - 6 bottles; 24 glasses
-Bordeaux Jeroboam: 5 Liters - 6.75 bottles; 27 glasses
-Imperial: 6 Liters (aka Methuselah) - 8 bottles; 32 glasses
-Salmanzar: 9 Liters - 12 bottles
-Balthazar: 12 Liters - 16 bottles
-Nebuchanezzar: 15 Liters - 20 bottles
-Melchoir: 18 Liters - 24 bottles
-Solomon: 20 Liters - 26 bottles
-Sovereign: 25 Liters - 33.3 bottles
-Primat: 27 Liters (aka Goliath) - 36 bottles
-Melchizedek: 30 Liters - 40 bottles; we lost count of how many glasses

We Like Big Bottles
Baby got... wine. Lots and lots of wine. Bigger is better in this instance, especially if you want to make a lasting impression. But you don't need to be Sir Mix-a-Lot to get your hands on these big boys. Here are some instances where "going big" is the perfect option.