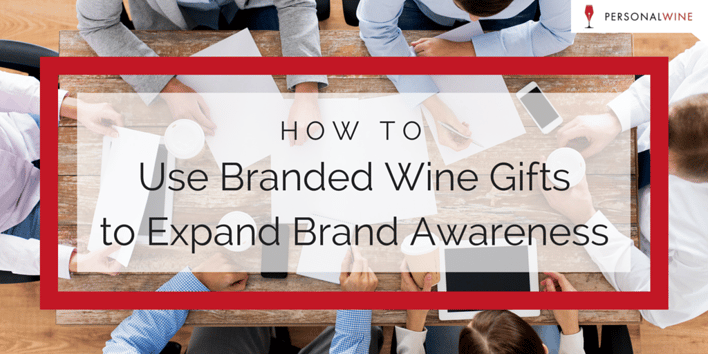 Branded corporate gifts are an excellent way to raise awareness of your brand and show gratitude to the customers that make your business possible. Better still, personalized wine gifts take it to the next level by putting your brand on an elegant and loved product. There are many corporate gift ideas in the market, but customized wine bottles show your prospects they're worth more than a simple pen or magnet. Here are 6 ways to use branded wine gifts to grow your business.
Trade Show Freebies
Trade shows are a great opportunity to attract and delight potential customers. However, with everyone competing with one another it can be a challenge to stand out from the crowd. Enter our branded mini wine bottles, the ultimate freebie trump card.
Take your logo and add it to a set of our mini bottles to create the perfect trade show gift. Show-goers will welcome a little vino after a lot of walking around. Make sure to add your company's contact information and tagline to help potential clients familiarize with your brand and get in touch.
---

Industry Blogger Outreach
Every industry has influential writers who blog on relevant topics and have a large following. These blogs are the place your customers are visiting for advice and ideas, and are the perfect place for you to reach new customers.
To get the bloggers' attention, shoot them a personal email offering to send a fancy wine gift as thanks for a blog/tweet/post about some aspect of your business. We've found most people won't turn down a free bottle of wine. This works well especially if that influencer is already using your product and doesn't need another one, but still needs an incentive to promote your brand. Put your company logo on the bottle to ensure your influencer knows who to thank for their nice bottle of wine.
---

Holiday Gifts for Clients
In order to retain your current clients, it's important to ensure that you're continuing to go above and beyond in satisfying them. This should be a no-brainer but unfortunately it frequently gets overlooked, especially in the midst of holiday chaos. Despite the busyness of the holiday season, giving gifts to your biggest clients is a great habit to get into.
Reaching out to your biggest clients around the holidays with a meaningful business gift shows them you remember them, care about them, and appreciate their business. Branded wine bottles or glasses make classy, corporate holiday gifts and are an impressive way to say "thank you." You can take this gesture a step further and send a second bottle, asking your client to pass it on to a friend who they think could benefit from your business as well. If you have multiple clients, Personal Wine has got you covered. You just have to create one order and with your client list, we can ensure each of your clients will receive their personalized business gift.


---
Networking Events
If you're not a member of your local chamber of commerce yet, it would be very beneficial for you to join one ASAP. Chambers of commerce provide many opportunities to meet other people in your community who might be interested in your business. They often host mixers and other events that give members a chance to network. These types of events will definitely help with increasing brand awareness.
Instead of passing out a typical business card at one of these mixers, if there's a potential warm client you've had your eye on, come prepared with a branded wine business gift to make a name for yourself and your company. Introduce yourself to the potential client, tell them how you think they could benefit from your services, and leave them with a fun, friendly reminder to call you.
---
Corporate & Community Events
If your business is hosting a corporate event like a conference or seminar, this is an ideal occasion to incorporate branded items. Branded mini wine bottles make a very unique and memorable statement at these events. Likewise, if your business is sponsoring a community event, you can use branded wine gifts as prizes or favors. Just make sure a branded wine business gift is appropriate and relevant for the specific event!
Gifts like mini wine bottles, mini champagne bottles, and custom engraved wine glasses are tasteful and fun. They're a little more pricey than magnets and pens though, so you may want to save these branded business gifts for more qualified leads. Be sure to always track the results of your efforts, so you can learn which methods are the most effective. Unique promotional products like branded wine gifts are a great investment because they set your business apart from the crowd.