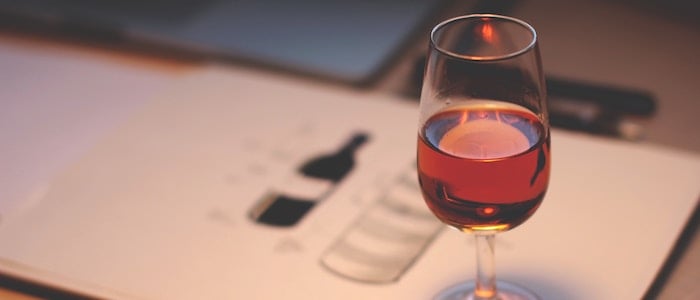 Giving wine as a gift just got a whole lot more fun.
Gone are the days when, if you wanted to give a bottle of wine to a friend as a gift, you had to hop in your car, drive to the liquor store, and trust the opinion of the cashier as to which was a great choice. Then you had to take it home, wrap it in tissue paper, and try to find a gift bag that would hold it so it wouldn't fall over and break. Good times.
Thank goodness we don't live in those times anymore. Now you can visit a website that will allow you to choose between red, white, rosé, and sparkling. It will tell you in detail the flavor profiles of each bottle of wine for sale and even foods with which it pairs well. You can also purchase a beautiful wooden box or high quality bag in which you can gift the wine. And, if all of that wasn't enough, you also get one great extra: you can personalize your wine bottle or label so it.
Crazy cool, right? Follow these simple steps and your perfect bottle of wine can be delivered to your door just a few short days.
Know the recipient
If you're giving the bottle as a gift, your first step is to know the person to whom you're giving the wine. The last think you want to do is show up with a bottle that she won't like. So consider the following questions before you make your choice.
· Does she prefer red or white?
· Does she like subtle hints of flavor or bold tasting wine?
· Does she prefer a sparkling light wine or a fruitier rosé?
· Does she like to share his wine, meaning a bigger bottle might be in order?
These are some great questions to ask yourself as you peruse our extensive wine selection and make the right choice. You need to remember that you're buying it for someone else, and to choose based on their tastes, not your own.
Know the occasion
Now that you know your recipient, it's time to understand the occasion for the gift. Different occasions can definitely call for different kinds of wine. As with understanding the recipient of the wine, you'll need to understand the occasion as well. Consider the following questions and why they might be important.
· Is this for the recipient to share or is it for her to enjoy on her own? If it's to share, you might want to consider buying a bigger bottle.
· If it's for a party, what food is being served with which the wine might need to be paired? Obviously the type of food can and should influence the type of wine served.
· Where will you be drinking it? If you'll be outside and the temperature is warm, you might want to consider a chilled white, whereas if it's a cool night and you're indoors, you might want to consider a heartier red.
· Is it a celebratory event or one that's more somber? If it's the latter, you might want cross a bubbly champagne off your list of possible choices.
Think long and hard about the occasion so that you can answer these questions. How you do so will help to further narrow down the choices in the quest for the right bottle.
Make your choice
Now that you have a better understanding of both the recipient and the occasion, it's time to make your selection. There is a wide variety to choose from, so no matter how much or how little you've narrowed your choices down, we have the perfect bottle for you. Once you're in the site, you can read detailed descriptions of each bottle for sale so that you know that you're choosing the right one.
Decide how you want to personalize it
There are two different ways that you can choose from to personalize your wine on our site. You can either use a label or you can choose engraving. (There is no charge to personalize a label, but there is a small additional charge for engraving.)
· Label – If you choose a label, you'll be immediately directed to a section that allows you to either choose from our standard, always-available labels or create a completely unique one from scratch using your own pictures, words, and design. A customer service representative can guide you if you choose to make your own or you can do it by yourself. And if you choose one of our standard labels, know that there is nothing truly "standard" about them. They're colorful and creative and can still be personalized with names and dates to make the perfect unique gift.
· Engraving – If you choose to engrave, you'll need to decide what you want to put on the bottle. A quotation? A fun saying that your friend and you have? Just a name and date to mark an occasion? Once you know what you want to say, then you get to choose how you want to say. Select the font that matches the mood of the occasion and you'll be pleasantly surprised at how classicly elegant the bottle turns out to be.
Consider gift wrapping
Now that you have the bottle designed and ready to be produced, it's time to think about gift wrapping. This is an optional step, but one that we encourage you to consider. While it's true that you shouldn't judge a package on the wrapping, you know that we all do it. Don't skimp out this far in the process but instead make the choice to put the final beautiful finishing touch on your perfect bottle.
You can choose from a simple gift bag made of velvet, organza, linen, or even leather. (Those leather bags can be personalized too!) If you're more into the classic simplicity of a wooden wine box, we have those too. Just like almost everything else on our site, you can personalize this too by having a message carved into the front. You can go simple by using the recipient's initials, or more complex by choosing a short quote for the front of the box. Either way, the person who is on the receiving end will be touched by the thought that you've put into every step of the gift-giving process.
Once you've put the wine into your online shopping cart, you'll also have the option of enclosing a card with the gift for an additional three dollars. That's a huge bargain – most cards in the stores cost twice that!! It's just one more layer of adding a personal touch to this special gift.
Shipping promises
You can select from three different types of shipping based on how soon you need the wine to be delivered. As part of buying from Personal Wine, you'll also get three separate shipping guarantees, all included in the price of shipping.
1. Your item will be packaged with extreme care in insulated packaging to ensure that it arrives intact at your location.
2. On the off chance it does break, we'll refund the cost and ship you out a replacement item.
3. We guarantee that it will be there by the date promised or we'll refund to you the cost of shipping.
We believe in this product, and we want you to be assured that we do all we can to satisfy our customers and deliver the highest quality product on time every single time you place an order.
A great gift of wine still has the power to bring friends together, to allow them to laugh or cry together, to give them a memorable time with one another. Buying the right wine doesn't have to be hard, but you should give some thought to it and above all, make it personal. Erase the directions to the liquor store from your GPS. You won't need them anymore as long as you've got Personal Wine.