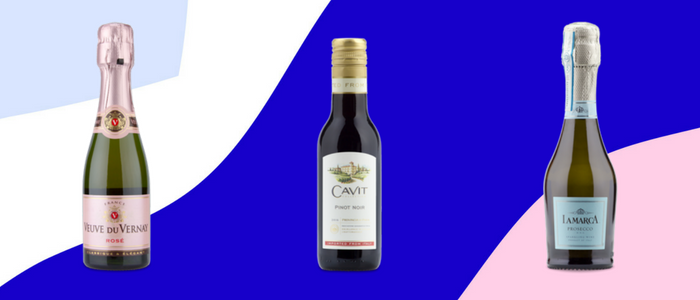 When you think about wine, I'm willing to guess that the first thing you think of isn't decorating. But you should.
The magical mini wine bottle is creatively versatile so that it can serve as a decoration, a favor, and of course, a drink. Three in one!
When these small bottles are personalized, they can be used in so many different ways to bring life and style to your next event. But before you just set them out any which way on a table, consider these decorating idea to use them in a really creative and impressive way.
Centerpiece bouquets of wine
Supplies needed: Mini wine bottles, decorative pots, green Styrofoam pieces for stuffing, mini wine bottles, tissue paper (color complementary to wine bottle/label), decorative ribbon
Create the label for the mini wine bottle: The goal here is to have a finished product that somewhat resembles flowers, right? So keep that in mind when you're choosing or designing your label. To that end, you may want to choose something with a straight up floral background for your label template. There are many to choose from, and several of them are found in our Mother's Day section. (Don't stress about the template section – you can totally format the label to say whatever you want.)
If you're not into actual pictures of flowers, choose something with softer pastel colors that mimic flowers. It will create similar effect and a beautiful finished product. Labels like those can be found all through our template selection. Don't see anything you like? You can always create your own.
Make the centerpiece bouquet: Take one of the pots and fill it 2/3 full with the green Styrofoam pieces. Then start to nestle the mini wine bottles into the Styrofoam. You can manipulate the Styrofoam to create different heights for the bottles. The number of wine bottles you'll need and use will depend on the size of the pot and how you arrange the bottles.
For the prettiest final product, you'll want to fill in the spaces between the wine bottles. You can Styrofoam to do that so it looks like leaves. You could also take pieces of your tissue paper and use that as filler. As a third option, you could even throw a few stems of fake flowers in there to make it really festive. Or you could go totally crazy and do all three!
When you're done arranging your wine, use your decorative ribbon to tie a beautiful bow around the flower pot holding the wine. It will be the perfect finishing touch to your centerpiece bouquet!
Wine that's ready for your winter party
Supplies needed: Mini wine bottles, pillow stuffing, mini holiday lights, wine bottle hats and scarves
Order the mini wine bottle hats and scarves: The key decorating piece for this mini wine bottle decoration are the hats and scarves for the bottles. Check out different options here or here, or search for another style that fits your party. Remember to leave enough time to order and get them shipped to you before your party.
Create the label for the mini wine bottle: "Holiday festive" is the theme of the party for this one, so choose something with colors appropriate for your holiday winter party. If your party is for Hanukkah, go with blue and gold colors. If you're decorating for your Christmas party, choose red and green. If you're throwing a Kwanzaa party, select labels with black, red, and green on them. Don't forget that if you don't see a label that you love from the huge selection, you can always design your own. Make sure to put a festive message on the front!
Create the winter scene: On various surfaces around your home, create a wintery scene of mini wine bottles for your party! Put hats and scarves on each of the bottles. Then arrange them in groups on tables, shelves, countertops, etc. – wherever you think they look the best.
Once you have them arranged in groups, take some of the pillow stuffing and arrange it like a blanket of snow around the bottom of the bottles. Then take the mini holiday lights and weave them throughout the stuffing and the bottles. Plug them in for the final touch to your magical winter mini wine bottle scene!
Summer party fun
Supplies needed: Mini wine bottles, mini wine bottle crates, colored tulle
Order the wire crates: We found them here for a few dollars, but you might also have luck at your local antique stores. The popularity of "farmhouse chic" décor has meant that antique stores are stocking up on all of these fun touches.
Create the label for the mini wine bottle: Think light and garden-y (yep, that's a word) for this festive addition to your summer party. Choose labels with light, beautiful colors that complement your party's theme colors. Do you have any pictures that you've taken of a beautiful flower or a color-streaked sunset at the beach? Use those to adorn the bottle label for a really special and personal touch.
Want something different on the label? Try a fun quote about summer, something like, "Summertime is always the best of what might me." (Charles Bowden) You can also try something simple like "Here comes the sun" or "Keep Calm & Enjoy Summer."
Create the summery scene: Get your wire crates and arrange the mini wine bottles inside them. Take the colorful tulle (obviously buy the color that goes best with your party theme shades) and wrap it decoratively around the wire crates and through the bottles for a light, airy, and beautiful effect.
Several simple suggestions
If you're not Pinterest-y but still want to do something more than just put the bottles out, here are a few ideas just for you.
Transform a cupcake stand:

Grab your

cupcake stand

and use it to hold your mini wine bottles! Most stands have adjustable levels, so move them around as necessary so that you can display your bottles in a beautiful, tiered way.

Shape them into a letter or number:

Celebrating a birthday? Reserve one of your tabletops for a cute display made with just mini wine bottles. If you're brave, you can use the bottles to form the number of the birthday guy or goal. If you'd rather not risk the friendship by revealing the age, shape the bottles in the form of the first letter of the guest of honor's first name.

Mini bride and grooms:

Having a wedding shower for both the bride and the groom? Transform little mini wine bottles into little brides and grooms! For the bride, take a small piece of white tulle and glue it to the top of the cap of the wine bottle to mimic a veil. Add a special touch of a few little

crystals

at the edge of the veil to complete the look. For the groom, take a piece of black cardstock and cut in the shape of two triangles whose top points are touching each other, like this:
For a finishing touch, take another crystal and glue it to the middle where the two triangles are touching. Then hot glue the finished bow tie to the front of the mini bottle. Your wedding shower favors are ready – and they just added to your decorations!
These are just a few of the ways that the creatively versatile and unique mini wine bottle can take your next party to the next level!