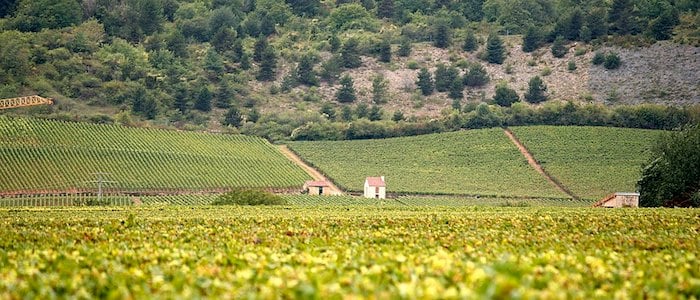 Megan Mallen [CC BY 2.0], via Wikimedia Commons
By any measure,
France
is the greatest
wine
-producing country in the world.
France
was the first nation to implement a system of legislation that codified viticultural practices and protected geographical designations of origin, and its laws served as a model for the rest of the winegrowing world.
France
is also the original home of the world's most famous
wine
grapes: Cabernet Sauvignon, Pinot Noir, Merlot, Grenache, and Syrah for red
wines
, alongside Chardonnay, Sauvignon Blanc, and Riesling for whites.
No other country produces such a large volume of fine
wine
, and at Personal
Wine
, we've tasted through hundreds of bottles to bring you the very best
wine
gifts that
France
has to offer:
The
Wine
: Pol Roger Brut Réserve NV
Region: Champagne

The Champagne region of north-central
France
is home to the world's greatest sparkling
wine
, a vinous embodiment of luxury, celebration, and success. With a history that dates back to 1849, Pol Roger is one of the great family-owned estates of Champagne, famous for its popularity among British royalty. A classic blend of equal parts Chardonnay, Pinot Noir, and Pinot Meunier, Pol Roger's iconic Brut Réserve slumbers in chalk caves for over four years prior to release, far exceeding the minimum requirements of the appellation.
In addition, each and every bottle of Pol Roger Brut Réserve is riddled by hand, an extremely labor-intensive method that is rarely employed for
wines
at this price point. The result is a non-vintage Champagne that over delivers on all fronts, making this the perfect
wine
gift for business closings, bridal showers, anniversaries, or any cause for celebration.
The

Wine

:
Chateau d'Esclans Whispering Angel Cotes de Provence Rose 2017
Region: Provence

The sun-drenched region of Provence is the spiritual homeland of rosé in
France
. Dry, pale-hued rosé accounts for over 75% of the region's total production, and every summer, droves of tourists flock to its shores to quaff the
wine
with local fare like bouillabaisse and salade niçoise. Situated on a plateau roughly 25 kilometers north of the Mediterranean coast, Chateau d'Esclans rose to international fame in 2006 with the release of Garrus, a luxury cuveé sourced from 80-year-old vines that many critics have declared to be the world's best rosé.
That said, the producer is better known for the Whispering Angel, a Grenache-based rosé with a massive international following that is equally at home in fine dining restaurants as it is in beachfront cabanas. This bright and refreshing
wine
offers flavors of fresh citrus and melon, and will make a fashionable
wine
gift for the bon vivant in your life.
The

Wine

:
Château Simard Saint-Émilion Grand Cru 2010
Region: Bordeaux

Bordeaux is one of
France
's most important fine
wine
regions and the original home of Cabernet Sauvignon, Merlot, and Cabernet Franc. Tracing its origins back to the 17th Century, Château Simard is located near the picturesque village of Saint-Émilion, a UNESCO World Heritage site that is home to some of the region's most prestigious estates. Surrounded on all sides by first growth vineyards, Chateau Simard's 40-hectare hillside property is planted to old vine Merlot and Cabernet Franc, and the entirety of their production is dedicated to a single
wine
that is aged to perfection prior to release.
Quintessentially Saint-Emilion in style, the 2010 Chateau Simard leaps from the glass with gorgeous aromas of fresh plum, black cherry, tobacco, and spices. Medium-bodied and elegant, this classically styled claret is extremely versatile at the table and will make a stately
wine
gift. We hope you've enjoyed reading about the best French wine gifts.