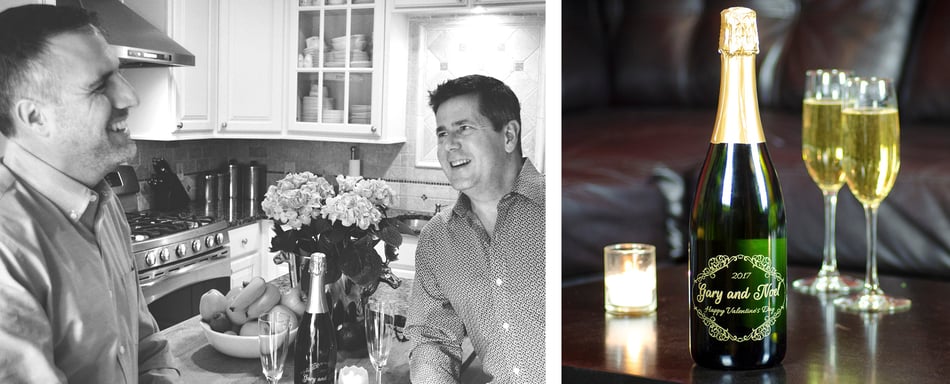 Meet Noel and Gary.
Noel is 50 years old and is a university researcher. Gary is 54 years old and is an attorney. They have been together now for five years and met each other running on the Town Lake Trail in Austin, Texas. Noel's favorite thing about Gary is that he is smart, patient and kind. Gary's favorite thing about Noel is that Noel completes him, says that he is his other half and compliments his qualities.
Countless memories made into a gift...
The best gift Noel has given to Gary is when Gary went out of town for business, Noel transformed their then utility closet into a big walk in pantry, surprising Gary upon his return. The best gift Gary has given Noel is a book that is filled with an entire year's worth of pictures, marking all the milestones within that year, detailing the reasons why Gary loves Noel.
Boring and practical....
The worst gift they said they have given each other are the "boring, practical stuff" like socks, pajamas, and "boring kitchen stuff we needed".
Quiet night in...
They plan of spending Valentine's Day this year at home. They will prepare a nice romantic "surf n turf" dinner, with filets and lobster tails and of course, drinking their personalized bottle of sparkling wine.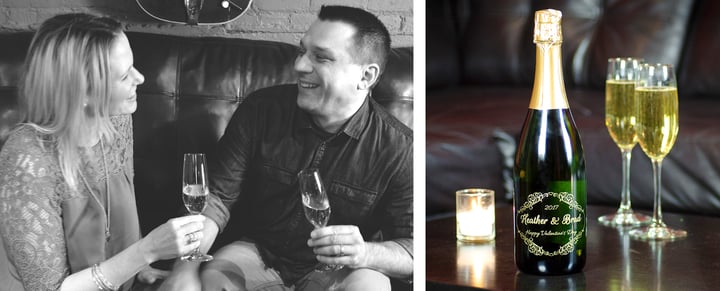 Meet Heather and Brad.
Heather is 42 years old and is an elementary school teacher. Brad is 46 years old and is a finance manager for a major corporation. They have been together for five years and first meet each other at church. After the service, Brad approached Heather and invited her to a friend's BBQ, and the rest became history. Brad's favorite thing about Heather is her thoughtfulness and how she looks out for everyone in her life. Heather's favorite thing about Brad is his appreciation for family and the quality time he sets aside for his family each night.
Turning precious memories into a forever gift....
The best gift Heather has given Brad is for their first anniversary, which is the paper anniversary, she took a section of lyrics from the song in their wedding and turned it into a picture. The best gift Brad gave to Heather is when they went on their first date, they went hiking and Heather made a picnic along with some conversation cards to allow them to get to know each other better. So, when Brad was getting ready to propose, Brad recreated those same conversation cards which lead to the final card being "Will you Marry Me?". For their first anniversary, he took all those cards and made a collage of them, with the proposal question in the fore front.
Fashion fail....
The worst gift they have given each other was for their second anniversary, the cotton year, Brad gave Heather a blue and white dress that she said looked terrible on her. That same year, Heather gave Brad a pair of striped pajamas she ordered from an online company that he said looked bad and has never worn them.
Romantic getaway...
This year for Valentine's Day, Brad and Heather are flying to San Francisco for the weekend to spend quality time together. They are bringing their engraved sparkling wine bottle with them to enjoy it on their romantic getaway.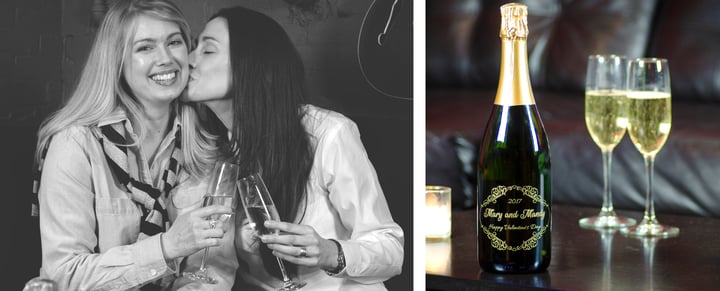 Meet Mary and Mandy.
Mary is 33 years old and works at a luxury car dealership. Mandy is 32 years old and works as a physician. They have been together now for a year and a half. Mandy's favorite thing about Mary is the way Mary can light up a room. Mary's favorite thing about Mandy is her Southern twang and charm.
Romantic staycations...
The best gift Mandy has given Mary is a surprise weekend staycation at the Four Seasons Hotel. The best gift Mary has given Mary was a pair of high-end designer earrings.
Off to warmer weather...
This year for Valentine's Day, Mary and Mandy are traveling to Orlando, Florida and will be going to Walt Disney World. This Valentine's Day vacation will be extra special because it will be Mary's first time visiting Walt Disney World. They plan on having their personalized wine bottle shipped to Florida for them enjoy while on vacation.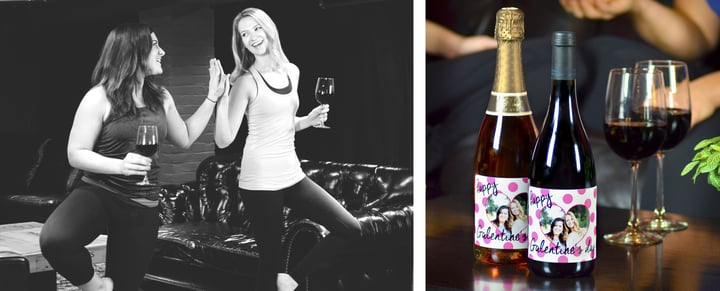 Meet Kristi and Kaila.
Kristi is 25 years old and works as a sales executive for a small company. Kaila is 29 years old and works as connections manager at The Austin Stone, a church in Austin, Texas. They have been best friends for three years. Their friendship began while they were both on vacation in Cape Cod. Kristi's favorite thing about Kaila is her joyful spirit. Kaila's favorite thing about Kristi is her thoughtfulness.
Every bestfriend knows...
The best gift Kaila has given Kristi is a painting of Birds doing Yoga. The best gift Kristi has given Kaila is a pair of Ayr jeans. Kaila says they fit like a glove and she wears them every day.
Galentine's Day yoga anyone?
This year, on Feburary 14th, Kristi and Kaila plan on celebrating Galentine's Day instead of Valentine's Day. They will be drinking their personalized wine bottles while doing their favorite best friend activity, yoga.
Are you inspired yet with all of these great ideas on how to celebrate Valentine's Day?