Everyone expects there to be wine at a wedding reception, but usually in the form of an open bar. While we definitely love and support open bars, we'd like to show you the hot trend in wedding receptions of creating wine bottles centerpieces.
A great benefit to using wine bottles for your wedding centerpieces is they not only will look fantastic, but will also be functional. You can use the wine wedding centerpieces as part of the beverage service during the reception, for the champagne toast or even as wedding party favors.
Our wine bottles can be personalized with custom labels and engravings, so you can create bottles that incorporate your wedding colors, typography and themes.
Here are our three favorite ways to create unique wine bottle wedding centerpieces using beautiful personalized wine bottles:
Champagne Toast Centerpiece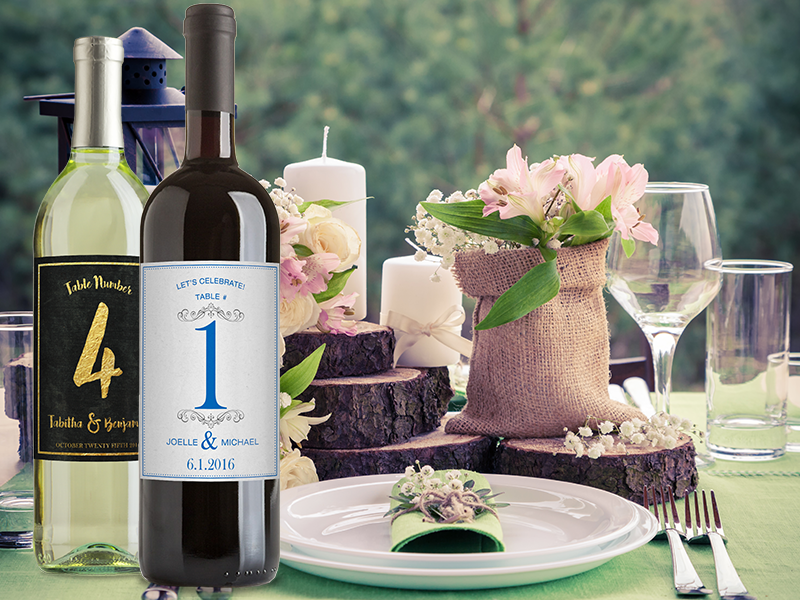 If you're planning on having a toast at your wedding, choose a bottle of sparkling wine as the highlight of your table décor and when it comes time for the toast have each table open their champagne centerpiece. If you know the words to your toast in advance, engrave them on the bottles for a beautiful and personal touch.
A Mini-Bottle Bouquet of Wedding Favors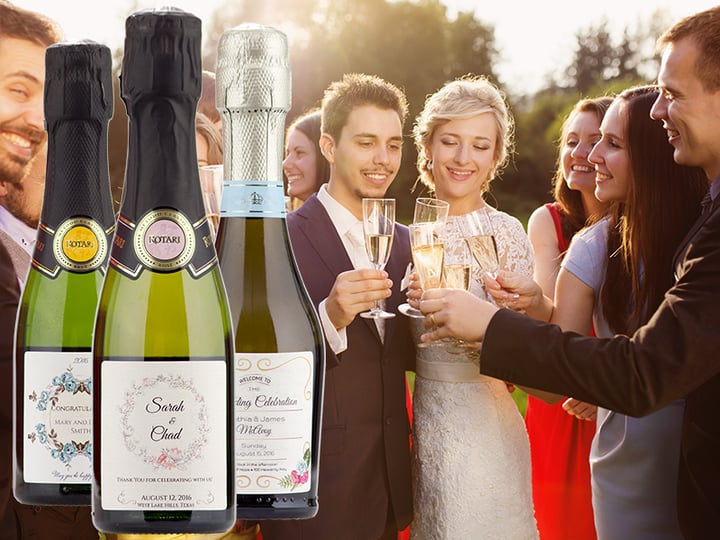 Single-serving, 187ml mini bottles can make the a unique "bouquet" for the tables at your reception! These adorable little bottles can be customized with a label that fits with your wedding theme. When your guests leave, they simply take one of the bottles with them, so this table centerpiece idea check's both fun decor and wedding favors off your wedding to-do list!
Magnum Masterpiece - Wine Bottle Table Numbers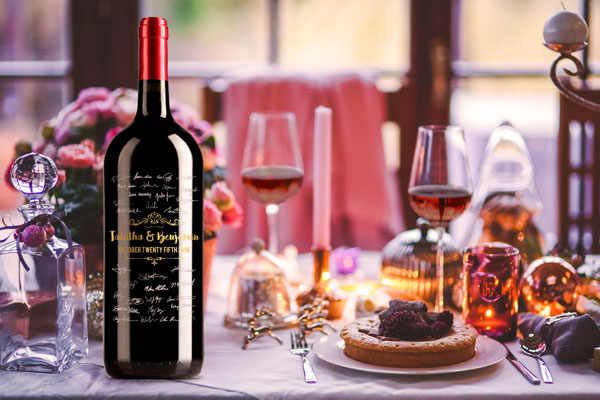 If you are looking to make a big impressive on your guests, consider using engraved magnum wine bottles as the table number markers for unique wine bottle decor.. These oversized bottles come in 1.5 and 3 liter sizes. After everyone knows where they are sitting, have them open up the magnums, each one will be enough for 8-16 glasses of wine, plenty for the whole table!
Creating your own homemade wine centerpieces
You can create wine bottle centerpieces on Personal Wine by adding your text or photos to our templates. You can create wine bottles table numbers and incorporate monogrammed initials or even upload your wedding invitation design.
If you have any questions about the process, or would like to get design ideas for your project, one of our specialists is happy to help you incorporate your ideas into the perfect personalized wine bottle.
To get started, head over to our wine shop, pick out a bottle, and customize it with your own label or engraving.