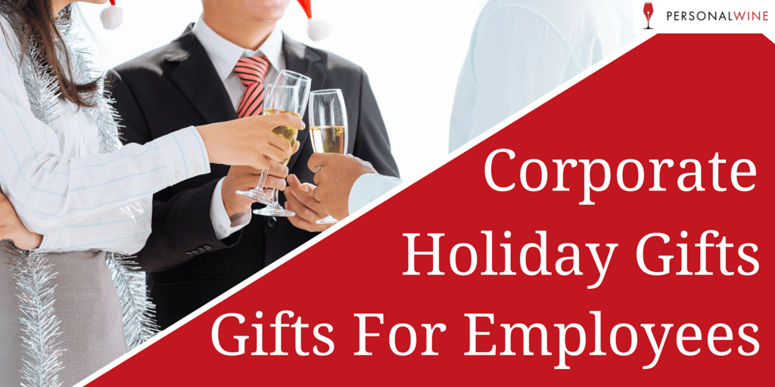 If you run a business, then you probably already know how important corporate holiday gifts and employee recognition is. It motivates them to keep working hard. One excellent way to express appreciation is with personal, meaningful gifts for employees, especially on holidays. In this blog we'll detail several holidays in which employee gift giving is appropriate and encouraged, along with some small gift ideas.
New Year's
Start off the new year right by celebrating your company's success in the previous year, while drinking to the goals of the new one. Having a company-wide toast to kick off the new year will both reward your hard-working employees and get them excited about the future. You can easily host this celebration with a case of mini champagne bottles, and why not get them branded with your company logo while you're at it?
SEE ALSO: HOW TO USE BRANDED WINE GIFTS TO EXPAND BRAND AWARENESS
Employee Appreciation Day

The best bosses remember Employee Appreciation Day, held annually on the first Friday in March. This is one day a year where employers stop what they're doing to recognize their employees for their dedication. There are many employee appreciation ideas, but we suggest engraved red wine bottles for each employee.
Retirement:

When a beloved employee retires, it can be hard to say goodbye, especially during the Holiday season. Giving them a unique retirement gift to show your appreciation can be even harder. By gifting them a personalized bottle of wine for their retirement can really show them how much you care about your employees and set the tone for your company culture.
Thanksgiving

There's no better day to thank your employees than Thanksgiving. Of course they will be off on the actual holiday, but the day before vacation would be an excellent time to express your gratitude. Because giving a corporate gift on Thanksgiving isn't necessarily expected of you, this is a great way to go above and beyond in recognizing and appreciating your employees. Round them up at the end of the day to pass out personalized white wine as a token of thanks. These employee holiday gifts will pair perfectly with Thanksgiving dinner.
Christmas
Last but not least, the beloved holiday of Christmas is a great opportunity to give a corporate holiday gift. Take it up a notch for Christmas and give your employees a holiday gift of wine in an engraved wood wine boxes that they can use over and over again. Need some inspiration on what to engrave? Here are a couple examples of elegant engravings for personalized wine gifts.
Any or all of these holidays are great occasions to reward your employees with a gift. These employee recognition ideas will go a long way with your staff and show them just how much you care. We hope you're now more prepared for and educated on the best times of year to give corporate holiday gifts.