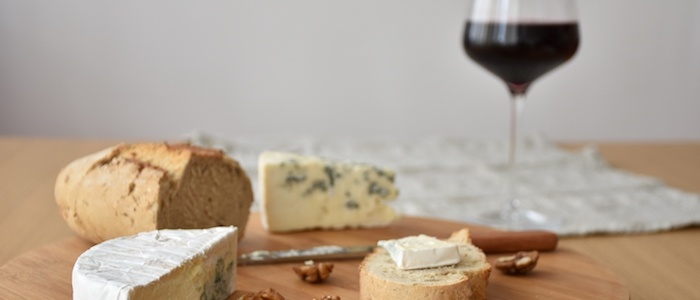 There's an old cliché inscribed on countless wine labels: "Pairs well with cured meats and aged cheeses."
When it comes to finding the best cheese for wine it's hard to go wrong with just about any pairing, but to simplify your strategy for your next party or gathering, we've broken down the principles behind the four timeless classic wine and cheese pairings:

Cabernet Sauvignon and Aged Cheddar
As cheese ages, it loses moisture and becomes correspondingly richer in texture, flavor, and fat content.
A well-structured Cabernet Sauvignon has ample tannins to cut through the fatty richness of aged cheddar while delivering an intensity of flavor to match the sharpness of the cheese.
Sauvignon Blanc and Chevre
When it comes to pairing wine with food, there's an old adage which states that "what grows together, goes together," and in the case of Sauvignon Blanc, the classic geographical pairing is goat cheese from the Loire Valley of France.
Now grown all over the world, Sauvignon Blanc has plenty of fresh citrus and herbal flavors to complement the tang of goat cheese, while providing ample acidity to cleanse the palate after every bite.
Champagne and Brie
Sparkling wines are high in acidity and carbonation, two attributes that create a palate-cleansing effect when paired with sticky, buttery cheeses like Brie.
High-quality sparkling wines from the Champagne region of France also display complex floral and autolytic flavors that add dimension to mild triple-crème cheeses.
Port and Stilton
Stilton is a dense blue cheese with a pungent metallic funk that runs roughshod over most wines. The increased sugar content and alcoholic strength of fortified wines like Port tame the funk of Stilton, while the intensity of the cheese tempers the cloying sweetness of the wine.
In other words, this classic wine and cheese pairing is greater than the sum of its parts, as both the cheese and the wine work harmoniously to diminish one another's harsher flavors and create an elevated tasting experience.