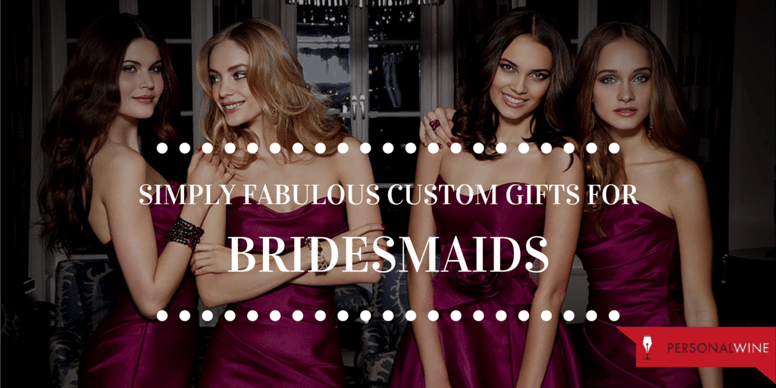 A bride has many things to think about before her big day. One of the things on her list is the perfect gift for her bridesmaids. The bridesmaids do a lot for the bride before and during the wedding. They help plan, set things up, and make sure everything runs smoothly, all while wearing heels and a gown. And, just to show how much they love the bride, they're willing to wear eccentric bridesmaid dresses. All of this deserves a fabulous bridesmaid wedding gift.
Every bride has to consider the taste of the bridesmaids as well as her own budget. Of course, she would be happy to buy them all some special, expensive, name brand gift, but most brides can't afford that. There are many things to remember before the big wedding day, and one thing is a gift for your bridesmaids! We have some gift ideas, so visit our blog today
Enter the custom wedding day gifts for bridesmaids. While at first it may seem that a custom gift may be more expensive, many of them are actually quite reasonable. And what a way to have some fun! You'll be able to display your personality, your friends' personalities, the quirkiness of your friendship, and remind them of this special time in your lives.
Custom Wine Bottles
Astonish your bridesmaids with custom wine bottles. These bottles can be engraved with the bridesmaid's names, the date of your wedding, an inspiring quote, a word of thanks – anything you want. The great thing about custom wine bottles is that they will last for years, long after the wine has been enjoyed. If you want to give your bridesmaids a truly special, long lasting gift, try a custom wine bottle.

Personalized Wine Labels
These are fun! There simply isn't another more appropriate way to describe them. Personalized wine labels give you free range to be sentimental, humorous, cheeky, or a combination.
Personalized wine labels have styles ranging from retro, art deco designs, to more intricately detailed, antique designs. You can also design your own labels with pictures of you, you and your bridesmaids, or any other sort of picture that sums up your friendship.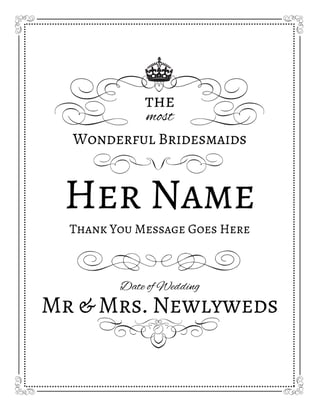 Once you've figured out what you want the label to look like, then you get to add that special quote, the date of your wedding, or something fun and humorous. With the popularity of mustaches as of late, one company has a label with a mustache that reads: "I [picture of mustache] you a question – will you be my bridesmaid?"
There really is no end to the options and the level of creativity that you get to express with personalized wine labels.
Customized Accessories
You can also give your bridesmaids customized accessories ranging from giant wine glasses, to personalized wine openers or bottle stoppers, to custom wine charms. The wine charms are rings you put onto your wine glass to identify the drinker and you can find ones with each bridesmaid's name. Or, you can get your bridesmaids a wine glass with something cute like this from one online company as an example: "I couldn't have said 'I do' without you."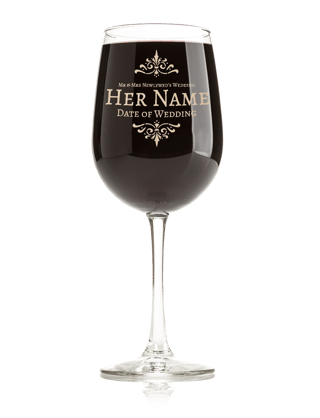 The next time you look at your to-do list and notice that you still haven't tackled the bridesmaid's wedding gifts, remember it is an easier task to accomplish than originally thought. With custom wine bottles, personalized wine labels, and accessories you can customize, there really is no end to your options. Display the uniqueness of your friendship with a personalized gift your bridesmaids will love; a gift that will remind them of the wonderful time you all were able to spend together planning a very special day.