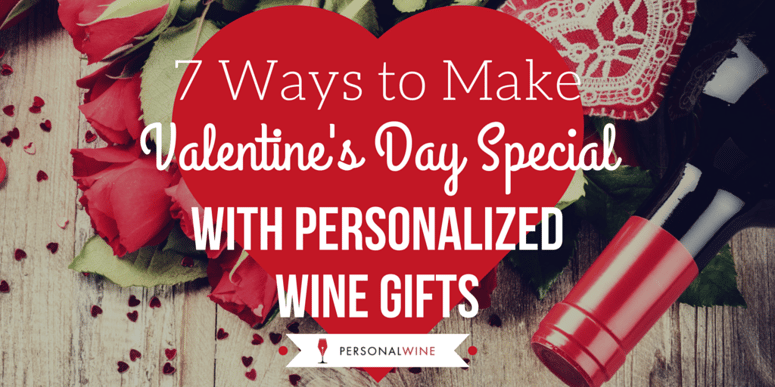 Valentine's Day, of course, is the cuddliest and coziest event of the year. But how can you make this next one unforgettable?
One idea is to order personalized wine gifts for Valentine's Day like engraved glasses or a wine bottle with a customized label. Seeing those personalized gifts, your significant other will probably be delighted by your ingenuity and touched by your thoughtfulness. Kisses by the fire might follow. Read on to see ways that you can make personalized engraved gifts for Valentine's Day.
Here are some Cupid-approved ideas for making the most out of engraved wine glasses and personalized wine bottles.
1. Use a Memorable Photo You Took Together as Your Label
That photo could bring about a tear - or a flood of them.
2. Commemorate Valentine's Day 2016
That way, your bottle and glasses will always call to mind the happiness of this particular holiday.
3. Put a Cute, Love-related Quote on the Label
A pithy and passionate saying can really fan the flames of desire.
4. Make His and Hers Engraved Wine Glasses
Elegant his and hers wine glasses are outstanding personalized gifts for Valentine's Day. They'll affirm your sense of closeness as a couple.
5. Write a Love Letter for the Wine Bottle Label
Maybe nothing can melt a person's heart quite like a love letter. If you attempt one, talk about being completely in love, and say how committed you are to the relationship. Don't worry about sounding too mushy.
Also, be specific: Describe a favorite time together, and list some of your sweetheart's loveliest attributes. What's more, it helps to get ideas from history's great writers of love letters.
6. Prepare a Candlelit Meal and Serve Wine in Engraved Glasses
When you make dinner for someone, you're saying "I love you." And engraved wine glasses could make that meal seem even more delicious.
An ideal Valentine's Day dish is flavorful, colorful and simple to make. You just need to decide if your special someone would prefer food that's rich and creamy or light and nutritious. In any event, this article provide excellent romantic recipes and wine pairings.
Your dish will taste a million times better paired with a beautful full bodied wine served in personalized wine glasses.
7. Serve Wine with Dessert
Wine and chocolate go together like, well, Valentine's Day and chocolate. So consider topping off your dinner for two with chocolate-covered strawberries, a big old heart-shaped box of fudge, or homemade truffles and of course paired with a wine that is beautifully engraved to match the occasion. By the way, Syrah and Port pair especially well with chocolate.