There are so many details to take care of when you're planning your wedding. Let us help you cross one of those things off of your list and take care of your wedding favors for you. We make it easy for you to thank your guests in a unique and creative way, ensuring that they will remember your wedding for years to come.
Here are five ideas for wedding favors we can provide.

Mini Bottles of Wine
We have a great selection of many different types of wine in gorgeous mini bottles. Make them even more unique with your personalized label, thanking your guests for being there for you on your special day. And unlike other sites where you get the labels but have to put them on the bottles yourself, we do that challenging work for you. Each label will be perfectly fixed to the bottles when they arrive at your house, ready to go for your wedding.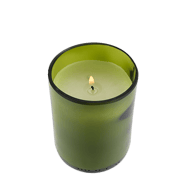 Upcycled Wine Bottle Candles
Upcycling is a hot trend right now, so our upcycled wine bottle candles are a wonderful way to combine your love for wine and your desire to be on the cutting edge of the latest craze. These candles are couched in the bottom portion of a recycled wine bottle and burn for over 48 hours. Engrave the bottle with a special thank you to your guests, and you'll have created a gift they'll be sure to keep for a long time.
Glassware Accessories

Another popular gift in stores today is stemless wine glasses. You can give your guests a beautiful token of your thanks by giving them each an engraved glass, thanking them for their support on your wedding day. Our wedding favor wine glasses have predesigned messages you can choose from or, for an even more unique touch, you can create one of your own.
Bamboo Accessory Set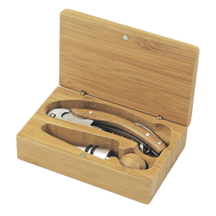 Do you want to really set your favor apart from the ones your friends will receive at other weddings? Then you want our gorgeous bamboo accessory set. It's a beautiful box made of bamboo and containing a naturally curved corkscrew and smooth spherical bottle stopper, both with bamboo and stainless steel accents. Engrave a special message of appreciation for your guests on the top of the box, and this one-of-a-kind gift is sure to become a treasure.
Carafe with a Bottle of Wine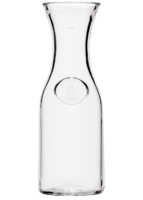 If you're having an intimate wedding with a group of your close friends and family, our personalized carafe and an accompanying bottle of wine make the perfect favor for this select group of special people. You can engrave the carafe with a heartfelt message of gratitude for all that these people have done for you, and take it one step further by creating a personalized label for the bottle of wine to go with it. This special gift will make your guests will feel loved and appreciated
---
Your guests come to your wedding to witness the start of a new chapter of your lives together. Show them your thanks in a unique way by giving them a favor that they will truly appreciate getting.