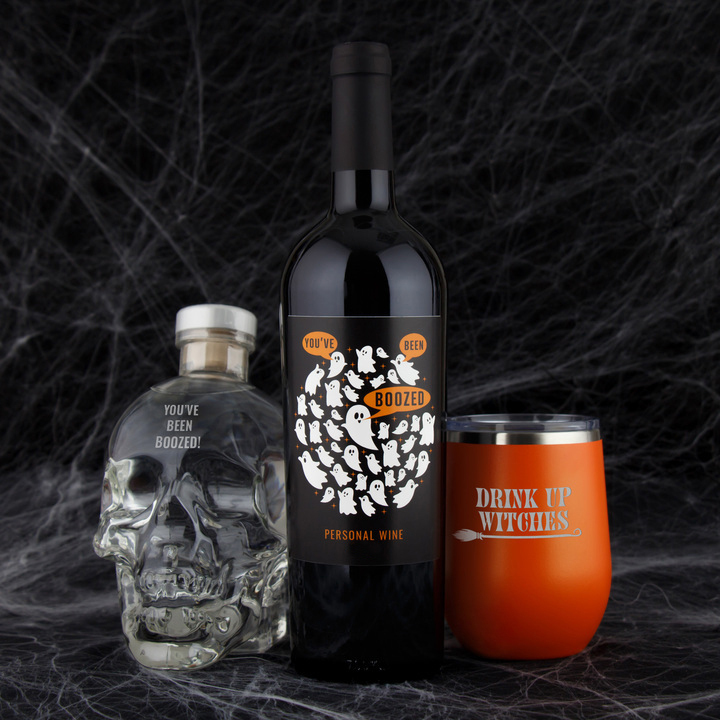 The nights are getting colder, the leaves are starting to fall, and goblins and
ghouls will soon be making their annual appearance. Yes, Halloween is upon
us, and what better way to celebrate than by toasting to the spooky season
with some wickedly delightful wines? Here are our top five personalized wine
gifts perfect for Halloween. Grab your broomstick, and let's take a haunted
tour!
1.
"You've Been Boozed" Cabernet Sauvignon:
First on our list is
the eerily delightful "You've Been Boozed" Cabernet Sauvignon. A
hauntingly smooth blend with a hint of mischief, this wine is sure to
raise your spirits. The playful "You've Been Boozed" label adds a touch
of Halloween fun, making it the ideal gift for that ghost or goblin in
your life (or for sipping in your haunted house). Plus, it's perfect for
starting a fun neighborhood tradition of 'boo-zing' your friends. It's like
ding dong ditch, but with a bewitching twist!
2.
Personalized Ghostly Wine Labels:
Love the idea of customizing
your wine, but want to add your own spooky touch? Why not get a
bottle of your favorite wine and stick on a personalized ghostly label?
Picture a phantasmagorical design featuring a whimsical ghost or a
dancing skeleton, with a creepy catchphrase like "Drink up, Witches!"
or "Ghouls just wanna have wine." Your pals will have a giggle, and
hey, a little personalization might just keep the vampires away!
3.
Witch's Brew Wine Bag:
Every witch needs her brew, and this
Halloween, your potion of choice can be wine! Delight your friends by
presenting them with a bottle of their favorite red or white encased in
a custom "Witch's Brew" wine bag. Adorned with whimsical designs like
witch hats, broomsticks, and black cats, this spooky sack ensures that
your wine gifts are both stylish and sinister.
4.
Custom Engraved Wine Glasses:
"Boo" Edition
What's a
hauntingly good wine without the right glass to sip from? These
custom-engraved wine glasses are etched with ghostly designs, from
playful specters to eerie tombstones. Imagine sipping your "You've
Been Boozed" Cabernet Sauvignon from a glass that playfully whispers,
"Boo!" with each clink. It's the perfect accessory for any Halloween
soirée or ghastly gathering.
5.
Mummy-Wrapped Wine Bottle:
Take your Halloween gifting to the
next level with a mummy-wrapped wine bottle. All you need is a bottle
of delicious vino and some bandage-like cloth strips. Wrap the bottle
up, making sure to leave the label or a personalized tag peeking out.
Add googly eyes, and voilà! You have a wine mummy that's both a
treat and a playful trick.
There you have it, wine lovers. Five fang-tastic personalized wine gifts
perfect for the spookiest season of the year. So whether you're ghosting a

friend, raising spirits at a party, or simply indulging in some boo-worthy

beverages, these gifts are sure to cast a spell. Cheers to a hauntingly good

Halloween!