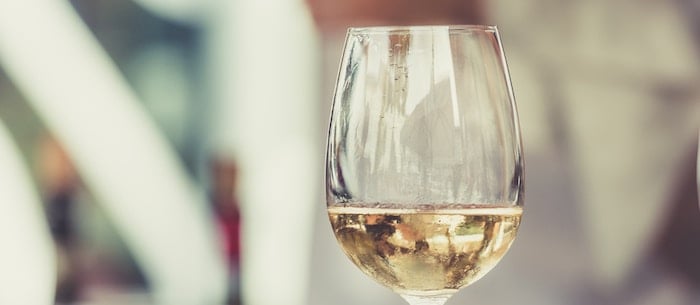 Ask anyone what the number one rule of fall fashion is and you can bet money on the answer: "don't wear white after Labor Day." Thankfully, the popular girls who outlawed wearing white clothes never outlawed drinking white wines.
Here are 5 reasons to drink white wine after Labor Day, even if you're not wearing it.1. Pairs well with fall foods
It used to be believed that the heartier the plate of food, the heartier the wine needed to be to complement it well. Turns out that's only partially true. While you probably still wouldn't pair a rosé with a steak, many wine lovers are looking to the flavor profiles of white wine and finding excellent pairings for heartier fall food. A steak needs something with structure and balance. The flavors in this full-bodied Chardonnay with hints of the oak it was aged in should work well with the meat. Mushrooms are another prevalent food in the fall, and this white pairs beautifully with them.

2. Sets you apart from everyone else
The ladies of the late 1800s may have all wanted to fit in, but in 2018, it's better to stand out. Drinking a glass of white when everyone is drinking red will make those other people wonder, "What's she drinking?" So you'd better make sure you're drinking a yummy pick. This unique medium-bodied Pinot Grigio, with hints of apple, pear, and floral flavors, is just the right one. You'll enjoy the refreshing taste while watching your fellow party-goers glance at you with curiosity. (Warning: you may leave a party with more friends than you had when you came if you dare to drink white.)
3. Earthy tones go with a changing season
There are different notes that are prominent in different wines. It's true that a lot of white wines do have a lighter taste and a summery feel to them. But many of them also have earthy notes and deeper flavors. Those are the white wines that you pull out in the fall. This Chardonnay, while definitely deriving many of its flavor notes from fruit, was aged in oak and is rich in spice notes. That makes it a beautiful wine to drink in the fall with its nuanced taste and aroma. Maybe drink it outside. Bundled up in your favorite wool sweater. On a clear, crisp evening. Sitting near a fire pit for a little extra warmth. Next to a guy with dark hair and….wine. He is also holding a glass of white.
4. Fall fruits make fantastic white wine flavors
Is there any fruit that is the essence of fall more than the apple? Apple pie, apple crisp, apple tarts, apples in salads, caramel apple lattes – does the list ever end when it comes to epic apple recipes? Now you can add an incredible wine with apple notes to that list. This wine is rich and full and balanced and mineral-y – all perfect for giving you the feeling of fall in a glass.
5. Keep one foot in summer while you slowly step into fall
For those who are not quite ready to trade in their bikinis for their parkas, white wine is the answer to your quest to stretch summer just a bit longer. The key is finding a balance between the flavor profiles of both summer and fall – and then finding a wine that has perfected that balance. This beautiful California Chardonnay is one of those wines. It has beautiful citrus and fruit flavors that instantly make you think summer, but that are also well-balanced with buttery notes, toasted bread aromas, and higher acidity that will transport you into fall. With one foot in both world, you'll be one happy wine drinker with this bottle.
Just because the leaves are changing to red in the fall doesn't mean that you have to change to red wine. Don't let upper class women of the late 1800s mess with your wine today. Be strong. Be bold. On crisp fall evenings, be different and choose a crisp white wine. Your palate will thank you.