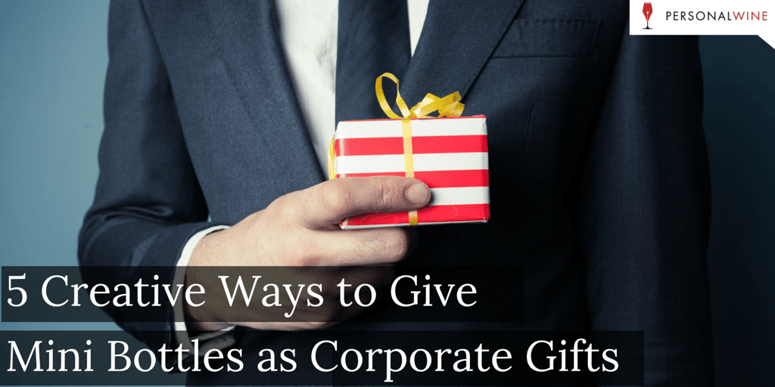 Mini wine bottles and mini champagne bottles are appropriate corporate gifts for many occasions. They scale down the cost of a full size bottle, but still retain its classiness. A case of mini bottles is perfect for an event with a lot of people, or it can be saved for the individual bottles to be passed out on your discretion. They can also be customized to showcase your brand on the label.
Employee Appreciation
The best bosses care for their employees by remembering them on birthdays and holidays. If you're a manager and are wondering what would be an appropriate personalized corporate gift to give your team for Christmas, consider handing out branded mini bottles.
Here are a few other ideas of days in which a gift for an employee would be appropriate: on a work anniversary, after a promotion, and on Employee Appreciation Day. If your office gives out "Employee of the Month" awards, a case of mini bottles would also come in handy for these occasions.
Company-Wide Events
At company-wide events like a Christmas party, or a celebration for reaching a company milestone, gifts will leave your employees feeling excited and refreshed. This is a special way to give back to them for all their hard work and dedication. Mini bottles are extra convenient for company events because they come in cases of 24 and have customizable labels.
Client Recognition
Showing your clients and customers that you appreciate them is also important. After all, without them you'd be out of business. You can show your clients you're thankful for them on holidays and birthdays, but it would be even more thoughtful to recognize them on their anniversary of working with you with a personalized corporate business gift.
On the anniversary of the day you initiated a business relationship, send one of your clients a case of branded mini bottles, so they can share the wealth with their whole office. This impressive gesture will surely be remembered and valued. You will be more likely to have ongoing business with your customers if you continue to delight them in such ways.
Trade Shows
If your business participates in trade shows, you know how important it is to have unique and original freebies for visitors to your booth. A trade show is an ideal opportunity to attract and delight potential customers with custom promotional products. Branded mini wine bottles will certainly set your trade show booth apart from the crowd, and with their customized wine labels you can include relevant company info. There are hundreds of templates to choose from.
Giveaways and Promotions
If you're trying to attract new customers, customized mini bottles are a great way to promote your brand. Host a giveaway via social media by asking your followers to leave you a positive review or rating. The first five to do so can get a branded mini wine bottle shipped their way. This is a great promotion to run around New Year's, when alcohol is a more appropriate gift. It's also very effective for businesses that only offer services.
Another idea is to give away a mini bottle as a free gift with a purchase. If you have a small business, on your company's one, five, or ten year anniversary you can add a free mini bottle on to every purchase. (You can set a minimum purchase amount if need be). This will not only delight your customers but it will increase brand loyalty. Branded mini bottles are also an appropriate corporate gift for customers at grand openings.
Out of all the personalized corporate gift ideas out there, mini bottles are the best way to reward an employee, impress a client, or celebrate a special event. They are the perfect gesture for when a full bottle would be considered a little excessive. And since 62 percent of Americans bought wine for themselves last year, you can't go wrong with a personalized wine gift.