They finally did it - your friends are getting married! You're so excited to celebrate them and the start of their new life together at their upcoming wedding. And then it happens...
Your boss says that you have to be at a conference the same weekend as the wedding and you can't get out of it. What do you do?
You focus on the gift.
This wedding gift to send to the new couple was always important but now it has a new urgency. You need to show them how happy you are for the couple and how sorry you are not to be there. That can be a challenge. Luckily for you, Personal Wine is up for the challenge. Here are four great wine-related wedding gifts for the newlyweds to show them how much you care even when you can't be at the wedding.

Beautiful Bottle of Champagne
Show the couple that the celebration doesn't have to end at the wedding. Give the gift of a bottle of champagne. Choose from a big selection of different types of sparkling wine. Then select one of our beautiful personalized labels to congratulate the couple on their wedding. They can sip the champagne and continue celebrating their new life together after the wedding. Bonus: that beautiful bottle will become a special piece of memorabilia to keep for years to come.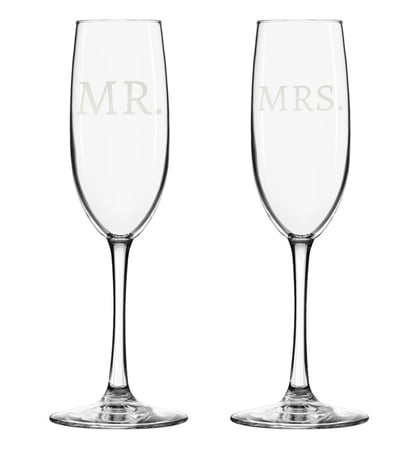 Engraved Champagne Flutes
Every couple needs a beautiful set of glassware to make drinking champagne a special occasion every time it happens. Choose from the classic stemmed champagne flute or the more modern stemless one. Then personalize your gift for the newlyweds by etching the word "Mr." on one of the flutes and "Mrs." on the other. They'll think of you every time they toast each other.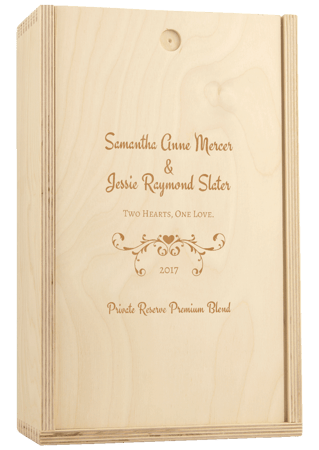 Wooden Box to Hold Their Souvenirs
As they start their lives together, the newlyweds will undoubtedly embark on some great adventures. What better gift to give than something to hold the souvenirs from those adventures? Select a gorgeous wooden wine box, and engrave "And so the adventure begins" on the top of it. They will appreciate the gift for years to come as they fill it with memorabilia from the special moments in their life together.
Celebration in a Box
If you really want to take your gift to the next level and show your love for the couple and communicate your disappointment in not being able to be there for the wedding, take all three of these gift ideas and put them together to create a one-of-a-kind celebration in a box! Order all three items (make sure the wine box is big enough to hold at least two bottles of wine so there will be enough space), and then place the bottle of champagne and the flutes inside the box. They'll have three memorable and personalized treasures thanks to your thoughtfulness.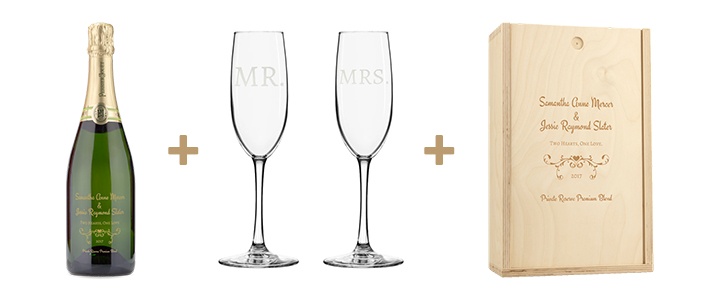 • • •
It's awful when you can't be present to celebrate a wedding of people you love. But you can show them how happy you are for them and how sorry you are not to be there in one truly memorable gift for the newlyweds that they will treasure long after the wedding is over.